Home
»
Motorola
»
Motorola Motosmart
»
Reviews
Motorola Motosmart Review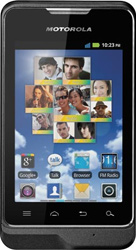 This may be a cheap handset but the design is quite striking and it looks much more expensive. However the budget Droid market is a crowded place these days so this cheap Android Gingerbread handset has some serious competition. Many of which can better the Motosmart specification with 1GHz processors and even colourful 4-inch screens. The Motosmart isn't the thinnest smartphone around but at 11.2mm thick it's not super-chunky either. It's heavy enough to give that premium feel and the build quality feels rigid with the metal, rather than plastic, backplate. The phone is easier to grip too with a rubberised backing.

The Motosmart's display is a 3.5-inch unit which is roughly the same size panel as the iPhone 4S, but the Motosmart's resolution is much, much lower at just 320x480 pixels which gives a pixel-per-inch count of 165 (around half the resolution of the iPhone 4S). Compared to the high end smartphones with stunning screens the Motosmart's display looks hazy and lacks crispness, smaller text on websites can appear blurry so you need to zoom in a lot making web browsing a bit of a chore. It's not the most responsive screen either, but in terms of budget smartphones it fall somewhere in the middle of the range.

Powered by a weedy 800MHz processor, the phone doesn't offer the smoothest experience, with some judder and lag on occasions playing high octane games with 3D graphics is a not an option! However, despite the poor specification, the Motosmart isn't the worst Android phone is this respect. As long as you don't expect miracles for the price, the Motosmart can handle all the simple stuff like basic web browsing and it's perfectly usable. Call quality is good with no connectivity issues experienced the phone will last for up to 6 hours in use, or up to 500 hours on standby. The Motorola Motosmart is powered by Android 2.3 Gingerbread which is now two versions behind the latest edition of Google's operating system, but the majority of budget droid handsets also still run Gingerbread. But with Gingerbread you do miss out on some useful features like Google's Chrome for Android browser. You do at least get access to the Google Play store with plenty of apps many of which are free to download, but the Motosmart isn't compatible with some of the better apps such as the popular BBC iPlayer app.ge has a distinctly blotchy look, but as basic YouTube fodder, it just about passes muster.

The Motorola Motosmart has a great price tag but it never really shines in any department. Good as a simple smartphone for lightweight web browsing and basic phone functions, not inspiring but cheap and useful!
| | |
| --- | --- |
| | |
Submit Your Own Review!