Home
»
Motorola
»
Motorola Milestone 2
»
Reviews
Motorola Milestone 2 Review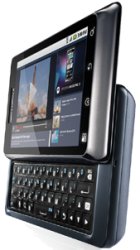 The Milestone 2 is the UK version of the Verizon Droid 2 which has taken the US by storm. This latest version of the Milestone features new hardware and the inclusion of the Motoblur feature (apparently added in response to customer feedback). The Milestone 2 is a bulky device measuring 60.5mm x 116.3mm x 13.7mm, and weighing in at 169g, making it one of the largest smartphones (although the HTC Desire Z is actually larger and heavier). General build quality and finish on the phone is good, with the textured back providing good purchase and grip for your fingers.

That extra size means that the Milestone 2 keyboard is one of the better designed keyboards available, you can create text and emails at a rapid rate. Each key has a slightly raised bump on the rubberised deck which means getting up to speed only takes a few minutes. The Motorola's Motoblur feature also works well and rotates the screen nicely when using the keyboard. Barring a small number of Android apps, you can use the phone in landscape mode pretty much all the time, which many devices will not allow you to do.

The camera is 5 megapixel and is supported by a dual LED array and performs in much the same way as competing mobile phones with simialr hardware. Videos are particularly  nice with HD of 720 pixels at 30 frames per second (fps). Its a little annoying that Motorola have not put a date on an upgrade to Android 2.3, but the Android 2.2 seems to manage all the features on the Milestone 2 without difficulty (but its nice to find that Adobe Flash 10 video is supported giving a more complete internet experience when browsing). The Motoblur feature in particular works well and pulls all your social networks together using numerous accounts such as Picasa, Twitter, MySpace, Facebook, LinkedIn, LastFM, Photobucket and Bebo.

The 3.7 inch capacitive display on the Milestone 2 is an impressive 854 x 480 pixels and looks absolutely fantastic. A vibrant and colourful enhanced with Motoblur's widgets displayed in crisp detail. The included music player is not quite as impressive, its by no means poor, just not as impressive as the other features of this handset. The player combines local content with internet radio, music, videos, community content and even a SoundHound music ID app. As a music player it works well enough, it just seems a little bit of a letdown when compared to some of the other Milestone 2 capabilities.

A fantastic mobile phone with no particular weak spots with the exception of the slightly bulky size, it does virtually everything well with no major downsides.

| | |
| --- | --- |
| | |
Submit Your Own Review!