Home
»
Motorola
»
Motorola Gleam black
»
Reviews
Motorola Gleam black Review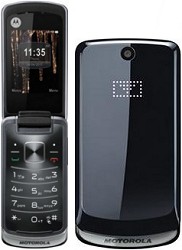 The Motorola Gleam is reminiscent of the company's legendary Razr handset. The Gleam is an attractive clam-shell handset offering basic features and competitive price tag. The glossy finish on the Gleam looks cool and there are glowing LED lights on the bottom on the phone which illuminate and pulsate when the the phone is opened or closed (however it does pick up fingerprints easily).

The keypad is similar to the original Razr, but today it's made from a single piece of flexible plastic, rather than the aluminium original. The buttons are large physical items which have a very slight degree of travel when pressed so texting on the Gleam is quick and effortless. The display may seem small to some, but at 2.4 inches is comparative to other phones in this price range. A feature phone as opposed to a fully fledged smartphone, there are no complicated apps to wade through with the Gleam, there is just a simple web browser, which has to do without 3G or Wi-Fi connectivity. Very little high tech features in fact, the Gleam actually offers little in terms of technology advantages over  the original Razr. Of course this lack of advanced technology has certain advantages in terms of ease of use and battery life. The battery on the Gleam lasts much longer than any smartphone on the market.

The 2-megapixel camera is rather basic, offering minimal photo quality and barely watchable videos. With just 5MB of internal storage available you will also have to take advantage of the microSD slot pretty quickly. Music quality is decent though, especially if you use your own headphones courtesy of the standard 3.5mm jack to listen to mp3 files or live radio via the FM receiver.

If you can live without 3G and WiFi connectivity and all the latest smart-phone technological features, the Motorola Gleam is a good choice and in fact is currently one of the best feature phone handsets available in this budget conscious marketplace. In the past buyers on a budget have been reduced to using rubbish looking phones that are less than user friendly. But the Motorola Gleam bucks this trend by offering cool looks and an intuitive interface. A cheap and trendy homage to the Razr, this is a great handset for those who value simplicity and attractive price tags over flashy features. Now budget buyers can have a handset with eye-catching design, cool LED lights which pulsate in use, expensive looking slim frame and an easy to use Motorola operating system.

| | |
| --- | --- |
| | |
Submit Your Own Review!