Home
»
Motorola
»
Motorola Fire
»
Reviews
Motorola Fire Review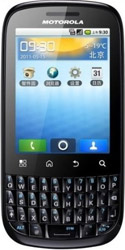 The Motorola Fire is a budget Android handset released from the now Google owned Motorola, the Motorola Fire runs on Android 2.3 Gingerbread and unfortunately there have been some compatibility issues regarding Ice Cream Sandwich so a free update may not be on the cards! The battery life on the Fire is above average for a touchscreen phone with over 8 hours of continuous talktime available from a single charge or 30 days of standby with 3G turned on which is impressive.

Despite the low price tag you get a 3-megapixel camera, Wi-Fi, Qwerty keypad, small touchscreen and an FM radio onboard too. With the qwerty keyboard this phone could compete with the cheaper Blackberry handsets like the BlackBerry Curve 9360 which doesn't even have a touchscreen. This neat device (aka the Fire XT311) is ideal for business users and and those for whom keeping in touch is key.

The TFT touchscreen is a capacitive type measuring 2.8-inches with 240x320 pixel resolution, the display also benefits from an accelerometer and proximity sensors. Thanks to Android you get a full range of native apps pre-loaded including Gmail, Google Talk, YouTube, Picasa and tons more. There are also endless customisation options including some nifty home screen social network integrations. Powered by a 600MHz ARM 11 processor with 256MB of RAM (plus a Micro SD slot for up to 32GB of additional memory), the Fire is pretty decent in use, rather than seriously powerful, but it's perfectly fine for casual users. The camera is better than you would expect, somehow it manages to use the available 2048x1536 pixels very successfully to produce some decent snaps and even manages to capture 480P video at 24 frames per second.

This is a great little device, cheap to own but with plenty of neat features and you can pick this phone up for a song if you click the deals button below.
| | |
| --- | --- |
| | |
Submit Your Own Review!