Home
»
Motorola
»
Motorola Defy Plus
»
Reviews
Motorola Defy Plus Review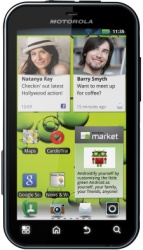 If you're in the market for a cool new phone that can take a few knocks, then the Defy+ Plus (Motorola's improved version of the Motorola Defy) could fit the bill. Announced last year, the "+" denotes a range of extra features. The Defy is a compact Android smartphone that you can carry anywhere and everywhere - to the swimming pool or up a mountain! The phone requires no maintenance or extra care in adverse conditions, being water resistant, scratch proof and dust proof, a real rugged go anywhere Android mobile. The Motorola Defy can stay underwater for a full minute and is designed to put up rugged treatment. The design hasn't changed very much from the original Defy, the new Defy+ is still a rectangular shaped "candy bar" device, with scratch proof Gorilla Glass covering the 3.7-inch display and the standard row of Android buttons at the bottom.

Using this phone outdoors in high winds is no problem as the Defy+ is equipped with CrystalTalk PLUS, this nullifies noisy environments using two microphones which intelligently filter background noise and amplify your voice so you don't have to shout. The Motorola DEFY Plus also has a 5.0 MegaPixel camera which supports features like Geo tagging, LED Flash, autofocus, digital zoom and image stabilization. The camera can capture pictures with a resolution of up to 2592 × 1944 pixels, however it does not come with a secondary camera so video calling is out. Video recording is supported at 30 fps. The DEFY also features the latest version of Motorola's unique interface, MOTOBLUR, which makes managing all your emails, messages and social updates simple by combining than all in one easy place with filtering, widgets and a versatile battery manager application.

The Defy + is powered by a powerful 1GHz Ti OMAP 3620 processor, Android 2.3 Gingerbread and a slightly modified MOTOBLUR interface. A considerable improvement over the original Defy, which made do with an 800MHz processor and Android 2.1. This extra power supports the 3.7 inch TFT capacitive touch screen with 480 x 854 pixel resolution that provides an excellent viewing experience and is protected with scratch resistant gorilla glass.

This Defy+ Plus phone has proven itself better in harsh environments than other smartphones such as the HTC Wildfire S and the Desire S. Luckily the added ruggedness of the Defy+ Plus doesn't come at a cost in terms of price or functionality. The latest Defy can play videos in MP4, WMV, H.263 and H.264 formats. All popular music formats such as MP3, AAC+, WMA and WAV music files are supported and you can enjoy live music using the built in FM radio. The only minor criticism of the Defy+ Plus is the battery will not last much longer than a day or so of medium use, however this criticism could be applied to almost all smartphones on the market, never the less, extended battery life would be useful on a phone designed for outdoor living.

| | |
| --- | --- |
| | |
Submit Your Own Review!
Motorola Defy Plus User Reviews:
By Dani - Phone Rating: 2/5
HTC HD7 Windows Phone (T-Mobile)- The phone is incredibly quick bitoong.HTC HD7 Windows Phone (T-Mobile)- The phone is incredibly quick bitoong.- The UI is beautiful and so smooth to use in comparison to other smartphones.- The build quality is solid and it feels like a good phone in your hand with the metal surround instead of cheap plastic.- The apps already on the store are of good quality and run very well on the phone, expecting a load more on the US release.- Skydrive integration with the Office Hub and your photo\'s is very useful allowing super quick upload to the cloud.- The one touch camera launch from the lock screen is very handy the flash is super bright with double LED.