Home
»
Motorola
»
Motorola Defy Mini
»
Reviews
Motorola Defy Mini Review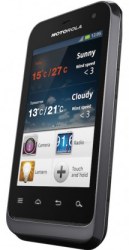 If you are known as Mr or Mrs Clumsy and are always dropping your mobile into drinks or puddles, standing on it or otherwise giving your phone a hard time, then the Motorola Defy Mini could be the perfect phone for you, a cheap and cheerful smartphone designed to cope with all sorts of clumsiness. The Motorola Defy Mini is water and dust-proof, has a shock-absorbent casing and scratch-resistant Gorilla Glass screen. The teeny Defy Mini is a tough customer with a hard-as-nails exterior and a competitive price which make it an ideal starter route into smartphone ownership for younger or less experienced customers.

Apart from the general robustness of the Motorola Defy Mini, when you compare it to other budget Android phones, there is not much in the way of benefits. It's all fairly standard low cost Android technology. The 600MHz processor for example is distinctly old hat, and a 3-megapixel camera is nothing to write home about either (even though it manages to take decent shots). What sets the Motorola Defy Mini apart is solely its ability to take life's knocks and come back for more. If you are a parent who is fed up replacing your child's phone you will be pleased to hear that not only is the Defy Mini a tough handset able to take some abuse, it wont break the bank either - a perfect child-proof smartphone!

There are some caveats to this ability to withstand punishment however, although the Defy Mini is small, it's also surprisingly thick, 12.5mm thick in fact thanks to the chunky protective casing. It's also difficult to get the back cover off due to the phone's water-resistant capabilities. The plastic covers on the micro-USB and 3.5mm headphone ports are annoying and fiddly to remove too.

Bearing in mind the budget pricing level its no surprise that the Defy Mini runs Gingerbread rather than the latest Ice Cream Sandwich, and when other smartphones like the Galaxy Nexus and HTC One X are pushing massive screen sizes, the Defy Mini's 3.2 inch display feels positively tiny, but at least it's bright, clear and reasonably responsive being a capacitive type than the older resistive type screen.

In summary, the Defy Mini is a basic Android handset with extra ruggedness, but it's hard to believe an Android phone has been released in 2012 with a 600MHz processor, 1GHz is probably the minimum expected nowadays, and there are budget Android handsets packing 1GHz chips. However, despite the lack of power, the Mini is a likeable and useful phone, small enough to fit into any size pocket, protected against shocks, dust and water, and with a low retail price. The Defy Mini is perfectly suited to younger users with that tough exterior and almost pocket money price tag!
| | |
| --- | --- |
| | |
Submit Your Own Review!