Home
»
LG
»
LG Prada Phone by LG 3.0
»
Reviews
LG Prada Phone by LG 3.0 Review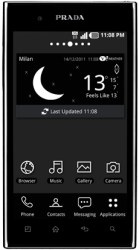 The Prada phone by LG 3.0 is the third handset to emerge as a result of LG's collaboration with Prada. It certainly looks the part with its slim, slick design, monochrome UI and large, bright screen and compact dimensions of 127.5 x 69 x 8.5mm - but does it have the technology and features on board to live up to the designer looks?

The handset runs on the much acclaimed Android Gingerbread operating system (with an upgrade to Ice Cream Sandwich imminent in the not-too-distant future) and you get all the usual connectivity options such as Wi-Fi and Bluetooth 3.0, along with new technologies like NFC and LG's SmartShare DLNA for sharing content between DLNA-enabled devices. Multimedia is well served with all main media types supported and the large 4.3-inch TFT LCD screen is impressive enough to match handsets such as the HTC Desire HD and the LG Optimus 3D. The 1GHz dual-core processor powering the LG Prada Phone is far from the most powerful processor in an Android handset, but in practice there are no real complaints as the Prada phone is smooth and responsive in use. The phone comes with a reasonably 8GB of user memory as standard with up to 32GB available via micro SD card.

Music playback is good and the rear speaker is loud enough to annoy anyone nearby, while the included headphones are decent enough. Making and receiving calls is easy thanks to the presence of dual microphones, one of which has noise-cancelling capabilities giving clear sound in almost all environments. The Prada phone has a rear-facing 8 megapixel camera with autofocus and a variety of various settings to choose from. In addition there is a front-facing camera. Picture quality is good if perhaps not quite as good as the better camera phones such as the Apple iPhone 4S or Samsung Galaxy S2.

The LG Prada Phone 3.0 is not a case of "style over substance". This mobile phone brings a lot more to the table than just designer looks, even though the cool design is certainly a selling point, the Prada phone is a thoroughly decent Android phone in its own right. The large, bright screen is particularly impressive and if you're after a great-looking Android powered handset then the Prada phone is a good choice. This smartphone is a lot more than just a fashionable companion for your branded accessories, this is one of the most powerful and smartest smartphones available with a Dual-core 1GHz ARM Cortex-A9 processor, Android Gingerbread, Wi-Fi, Bluetooth 3.0, microUSB, GPS and an 8 megapixel camera!

| | |
| --- | --- |
| | |
Submit Your Own Review!
LG Prada Phone by LG 3.0 User Reviews:
By David - Phone Rating: 4/5
LG used to be good and then they just stopped making decent phones. This new prada is really quite nice. I have it on O2..much better than my old viewty :-P
By David - Phone Rating: 4/5
LG used to be good and then they just stopped making decent phones. This new prada is really quite nice. I have it on O2..much better than my old viewty :-P