Home
»
LG
»
LG Optimus Pro C660
»
Reviews
LG Optimus Pro C660 Review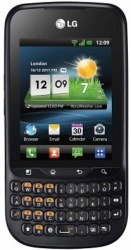 If you are looking to get a phone which offers all the advantages of the awesome Android Gingerbread mobile operating system, but are not willing to pay top dollar? LG may have the answer in the form of the low-spec LG Optimus Pro, an entry-level smartphone introduced by the Korean company. The Optimus Pro is a BlackBerry-like device that has a physical QWERTY keyboard and is designed for social networking users. The Optimus Pro features a 2.8 inch capacitive TFT display with 240x320 pixel resolution and the same MSM 7227T chipset found in the Galaxy Gio or Ace. The handset comes with a stingy 256MB of RAM and just 150MB on on board memory - but you do get a 2GB microSD in the retail box. Despite being a budget mobile, the Optimus Pro packs HSDPA 3.6Mbp and Wi-Fi, Bluetooth 3.0, A-GPS and even an FM radio and 3 megapixel camera.

Simple Social Networking is the mission statement for the LG Optimus Pro with both QWERTY and touch display input. This is the first LG Optimus smartphone with a portrait bar QWERTY keyboard, the Optimus Pro offers the best of both a physical keyboard and touch display. The 2.8 inch TFT display is responsive to touch input and the QWERTY keyboard is ergonomically designed for fast and accurate typing/texting. There are dedicated hotkeys for email and scheduler for convenience and the Optimus Pro is available in white, titan and black.

Android 2.3 Gingerbread on the Optimus Pro is overlayed with the LG user interface which is a basic, but functional system with some nice features including connectivity switches in the pull-down notification bar for fast access to the GPS or data radio functions. The 800MHz processor on the Optimus Pro has just 256MB of RAM which means that sometimes phone can lag when too many apps are used at once, but it's not annoyingly slow by any means, just a limitation which reflects in the pricing. Browsing the internet is a generally a pleasant experience courtesy of the included Gingerbread browser, but the Qualcomm chipset doesn't support Adobe Flash. Connectivity is good however with 3.6Mbps 3G, Wi-Fi, Bluetooth 3.0, A-GPS and FM Radio. Then included 3 megapixel camera is basic as is the music player, the Optimus Pro's loudspeaker is decent thoug but could do with more volume. Video playback is surprisingly good, with DivX/Xvid codecs hardwired into the chipset, running MPEG-4/DivX/Xvid video up to 720x480 resolution with no problems.

The LG Optimus Pro is an affordable mobile with an excellent portrait physical QWERTY keyboard, which makes it a brilliant device for messaging. It also offers a decent 2.8 inch touchscreen which is handy for browsing or social networking. The main drawback is the very basic 3MP camera, but at this price you cant have it all. What you do get is a well priced Android unit physical portrait QWERTY keyboard and all the social networking features you will ever need.

| | |
| --- | --- |
| | |
Submit Your Own Review!