Home
»
LG
»
LG Optimus One P500
»
Reviews
LG Optimus One P500 Review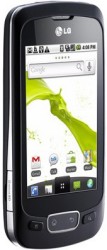 The Optimus One could not really be described as the best looking handset, but it's far from hideous. It is a bit "plasticky" however and the chrome trim on the buttons is ugly, however they are easier to use than some of the touch sensitive buttons which are so prevalent nowadays. Powered by Android, the Optimus One is laden with user friendly features. For example email support is excellent and as you would expect Google services are an instrumental part of this phone. Google Maps in particular has some advanced features that you cant get on non-Android phones and there are plenty of other good apps available in the Android Market which can be downloaded and installed for free.

LG has used its own keyboard on the Optimus One rather than the default Android Qwerty keyboard. There is some logic here as the smaller 3.2 inch screen allows for larger buttons. Although a feature that is missing on the Optimus One is Flash Player 10 support even though it's supported by the operating system (Android 2.2), the fact is the Optimus One's screen resolution is too low for Flash to work. However there is a YouTube app that comes pre-installed on the Optimus One which allows you to watch Youtube videos. Other apps worth highlighting are the services for sharing photos via email, Picasa, Twitter or Facebook . These services are built into Android. In addition you have Picasa, Google's image-sharing site, so you can also synch your web albums automatically with the phone's gallery.

The Optimus One uses a 3.2 inch screen with 320 x 480 pixel resolution. Although Android browsers are typically the best in the business, this low resolution screen can make it difficult to read some text when viewing complete web pages. luckily zooming in and out is simple by double tapping or pinching your fingers using the multi-touch zoom capability. In general however, internet browsing is brilliant with Wi-Fi and HSDPA for fast downloads via 3G. The Optimus One is an excellent phone for surfing the Internet, even with the low-resolution screen, particularly in this price range.

The attractive price of the Optimus One does show in some areas, for instance the 3-megapixel camera shows some evidence of cost cutting, it is capable of taking clear and bright shots, but it's not going to win any photography awards either, generally speaking its perfectly fine for sharing snaps on Facebook or similar.

The LG Optimus One P500 is cheap and cheerful handset that delivers smart phone like satisfaction. The low-resolution screen and no Flash support are annoying, but generally you get all the goodness of Android, wrapped up in an inexpensive package. It's just a pity that the design choices make this handset uglier than it need be.

| | |
| --- | --- |
| | |
Submit Your Own Review!