Home
»
LG
»
LG Optimus Me P350
»
Reviews
LG Optimus Me P350 Review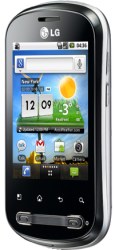 The Optimus Me P350 isn't likely to weigh you down, weighing just 130g, this petite handset will fit into any size of pocket. Underneath the screen on the Me you will find the four traditional Android touch-sensitive keys as icons as opposed to physical keys. Like the LG Optimus 3D, the Me runs the Android 2.2 Froyo operating system so its somewhat behind the new Google phones which ship with Android 2.3 Gingerbread. In reality is that most users will hardly notice the difference. LG will probably update the Optimus range to Gingerbread soon in any case.

Being a budget Android phone, the Me's CPU is a 1GHz single core processor powered mobile, as opposed to the dual-core processors used in high end handsets. This 600MHz processor means the Me doesn't support Flash either. This low powered chip along with the low resolution screen, this means web surfing is not a great experience. The phone's 3-megapixel camera is better being very similar to the Optimus One, offering decent snaps and VGA video recording. The 2.8-inch touchscreen (capacitive rather than resistive) is probably the weak spot on the Me P350. It's even smaller than the screen on the Optimus One and has even lower resolution, however it  has to be said that the screen specification is similar to other budget Android handsets.

The Optimus Me P350 in many ways is the successor to the Optimus One. Strangely, the Me is inferior in some areas and is not the improvement many expected. The LCD screen is smaller, the processor is the same and the camera's still mediocre at best. The LG Optimus Me P350 is an attractive design, but it cuts corners in a big way to keep the price s low. It's perhaps suited to those looking to get an Android on the cheap. In its favour you get a cool looking handset with a number of functions, a full set of connectivity options - 3G, Wi-Fi, Bluetooth and GPS and FM radio with RDS (using the included headset as an antenna), decent call quality plus all the features of Anroid, but on the downside everything is pretty basic, no Flash support, Android 2.2 Froyo instead of 2.3 Gingerbread, and that poor low resolution screen and there are now a lot of alternatives in the budget Anrdroid niche to the LG Optimus Me P350.

The Optimus Me P350 is a budget phone with a youthful character thanks to the styling, which many will be happy with particularly if they are smartphone newbies, however those who have experienced higher quality handsets like the HTC Wildfire will want more.

| | |
| --- | --- |
| | |
Submit Your Own Review!