Home
»
LG
»
LG Optimus L7 black
»
Reviews
LG Optimus L7 black Review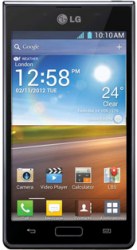 The LG Optimus 7 black is the top handset in LG's mid-range "L" series, above the L3 and L5. A slim attractive handset measuring under 9mm and stylish in a minimalist way with an aluminium trim around the plastic casing highlighting the 4.3-inch capacitive touch screen which is protected by Gorilla Glass. The touchscreen is bright with a pixel count of 800x480 but there is a certain lack of sensitivity when compared to more expensive handsets. Running the very latest Android 4.0 Ice Cream Sandwich operating system, unusual in a mid-range handset (perhaps the only other mid-range handset that comes to mind is the HTC One V). However the Ice Cream Sandwich on the L7 does not have all the usual features, just most of them, the facial recognition unlocking feature isn't here and neither is the ability to resize the homescreen widgets, but you do get the vast majority of the Ice Cream Sandwich goodness.

The Optimus 7 is not the fastest handset out there, thanks to a rather sluggish processor. With LG's quad-core handset, the 4X HD, on the horizon, the L7's single-core 1GHz processor seems archaic. It's fine most of the time, but switching between apps can take a couple of seconds and internet browsing via Wi-Fi is not as fast as it could be. It's noticeably slower than the HTC One V for example.

The 5-megapixel camera however does a pretty good job and has some nice features such as face tracking and touch focus, with picture quality better than expected for a 5-megapixel unit. Video resolution is 640x480 pixels, not quite HD, but good enough for YouTube and Facebook clips. Photographs and videos can be stored on-board up to 4GB or by using a microSD card up to 32GB. NFC ( Near Field Communication) technology is also included which future proofs the L7 to a certain extent and the battery copes well offering around a day and a half of medium to heavy use.

The LG Optimus L7 black offers a lot for the price - a large, bright screen, a decent camera with with LED Flash, digital zoom, autofocus and geo-tagging, Wi-Fi, Bluetooth v3.0, and of course Ice Cream Sandwich. It's a shame LG didn't see fit to use a more powerful processor, as the single-core 1GHz Cortex-A5 Qualcomm MSM7227A Snapdragon unit is a weak point. However, at this pricing, a single-core 1GHz chip is about all you'd expect.
| | |
| --- | --- |
| | |
Submit Your Own Review!