Home
»
LG
»
LG Optimus GT540 black
»
Reviews
LG Optimus GT540 black Review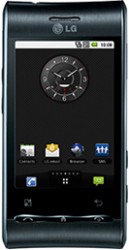 The Optimus GT540 is the latest Android smartphone from LG. However, unlike the previous LG Android offering, the InTouch Max GW620, the Optimus GT540 doesn't feature a physical keyboard but relies totally on a virtual touchscreen keyboard. This is not a high end device in terms of features and specification, but you certainly wouldn't realise just by looking at it. In size, the GT540 is slightly slimmer than the iPhone 4, so it fits neatly in your hand, and the brushed-metal effect give this handset a modern and sophisticated look.

It's unfortunate that this premium feel doesn't extend to the touchscreen. This screen uses the older resistive technology as opposed to the more modern capacitive screens used on most of the more expensive touchscreen phones nowadays. This means the resistive display on the Optimus GT540 is not quite as responsive to the touch input as those handsets using capacitive screens and it does not support multi-touch functions either. Despite this use of older technology, the 3 inch screen on the Optimus GT540 is reasonably sensitive, even though not quite as precise as the capacitive screens on handsets like the Samsung Monte or iPhone. The screen is nice and bright though, with crisp, sharp text and icons, using the 320x480 pixel resolution.

Running version 1.6 of Android, rather than version 2.1 used on other handsets like the HTC Desire. The Optimus lacks some of the modern user interface enhancements and the updated browser functionality. However you still get access to the Android Market and Google Maps.

The Optimus GT540 uses a 600MHz Qualcomm processor with 256MB of RAM. This is not the fastest specification for running the Android operating system, but it seems to work fairly well and for the most part feels quite responsive. Connectivity is good supporting HSDPA and Wi-Fi for speedy web browsing, as well as Bluetooth. Music and multimedia performance is above average and there is also a standard 3.5mm headphone jack and an FM tuner. The integrated 3 megapixel camera isn't fantastic, but it does do a decent job of taking quick snaps and also supports face detection.

The LG Optimus GT540 offers plenty to like, particularly the sleek design and multimedia features. But its relatively dated version of Android and the old fashioned resistive touchscreen let it down. For the price its a decent purchase, providing all the features most consumers require (albeit in a slightly below par fashion), in a great looking and affordable handset.

| | |
| --- | --- |
| | |
Submit Your Own Review!