Home
»
LG
»
LG Optimus 4X HD
»
Reviews
LG Optimus 4X HD Review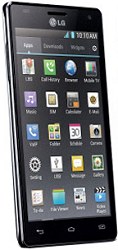 The Optimus 4X HD appears to have it all in terms of both looks and specification. Thin and elegant style, a fantastic True HD-IPS screen, a range of connectivity options, NFC (near field communication), 8 megapixel HD camera, the Ice Cream Sandwich Android 4.0 operating system and a brawny Quad-Core processor. It's a good looking handset which looks similar to the Samsung Galaxy S2 but just ever so slightly bigger measuring 132.4mm x 68.1mm x 8.9mm, and a tad heavier at 133g. Like many other big screened smartphones the Optimus 4X HD is real fingerprint magnet however. The screen is a True HD-IPS LCD capacitive with a resolution of 720x1280 pixels which offers 312 ppi (pixels per inch) density on that 4.7-inch screen.

This handset is powered by a 1.5Ghz quad-core Tegra 3 processor, no matter what you do, it's almost impossible to slow it down and couldn't be faster. Web surfing is balzingly fast whether on HSPA or Wi-Fi, even multimedia rich web pages load in less than a second. The face unlock feature on the Optimus 4X HD actually works too, much slicker than the HTC One X or the Galaxy S3, even in poor light conditions it quickly unlocks the handset. The camera is good too, not a huge leap forward over other top of the range smartphones, but a competent point and shoot device. In poor light conditions however, the LED flash performs really well, it's a powerful unit much like the Samsung Galaxy S2 and S3. Like the HTC One X, the Optimus 4X HD has the ability to shoot HD video and take photos at the same time. This is a true multimedia phone and there is 12GB of storage to play with, which is plenty for most, and you can even expand the memory up to 32GB. Connectivity is great with the expected Wi-Fi, GPS and Bluetooth, in addition you also have the ability to use the Optimus 4X HD as a wireless hotspot.

The Optimus 4X HD is highly recommended for anyone looking for a powerful high end smartphone, it's a fantastic piece of kit. However the Samsung Galaxy S3, Sony Xperia S and the HTC One X are also worth a look in this price range.
| | |
| --- | --- |
| | |
Submit Your Own Review!