Home
»
LG
»
LG Optimus 3D P920
»
Reviews
LG Optimus 3D P920 Review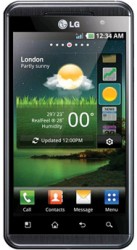 The LG Optimus 3D is the first mobile phone to offer "proper" 3D (i.e. glasses-free). This 3D viewing is presented on a 4.3 inch touchscreen and the 3D effect on the phone is clear and easy to see. However, it only works in landscape mode, and for the proper effect you have to hold the phone at just the right distance from your eyes. If you don't want the 3D effect all the time, you can simply turn it down using an on-screen slider.

The handset ships pre-loaded with a number of applications, games and videos so that you can start enjoying 3D right away. However, some users have reported that after that initial thrill, some of the novelty starts to wear off. In addition to the games which are included there are many 3D games available from the Gameloft app for around 99p. But at the moment 3D content in the Android app store is prectically non-existent. Without any decent 3D content in the Android Market, you may struggle to get enough content to really make the most of the phone's capabilities.

However, if you feel the desire, you can create your own 3D masterpiece using the Optimus 3D camera. You can capture 3D stills and video in 3D and create an awesome 3D depth effect and if you have a 3D television you can easily hook up the phone to your TV using the Optimus 3D HDMI port (in addition you can connect wirelessly to your TV if it supports DLNA). You can even share 3D videos on YouTube, where they can be viewed with conventional red and blue anaglyph 3D glasses.

The downside of having this amazing 3D on board is the Optimus 3D is bigger and bulkier than non 3D phones. When compared to the Optimus 2X for example, the Optimus 3D is 30g heavier, 4mm wider and 2mm thicker. Despite this, you certainly get a lot of phone packed into that relatively small size. But the huge 4.3 inch screen and those two 5 megapixel cameras required to shoot 3D do mean the phone is bulkier than some may be used to.

Surprisingly, despite the amazing technology of the 3D hardware, the LG Optimus 3D ships with Android 2.2 Froyo on board, rather than 2.3 Gingerbread. However, most of the more important features are present and correct such as Flash support for the excellent browser and access to thousands of apps in the Android market, including support for Google apps like Maps and Gmail.

Right now the LG Optimus 3D is a unique phone with no real competition (until the HTC Evo 3D arrives). Its a great phone and if 3D appeals to you this is the only handset to have. If you are not interested in the 3D feature, then you may be better off choosing the Samsung Galaxy S 2 or HTC Sensation.

| | |
| --- | --- |
| | |
Submit Your Own Review!