Home
»
LG
»
LG Optimus 2X
»
Reviews
LG Optimus 2X Review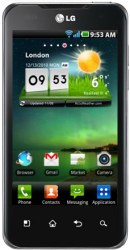 The LG Optimus 2X is the latest attempt by the Korean company to corner the high-end Android market. Utilising Nvidia's brand new Tegra 2 dual core chipset, the LG Optimus 2X is built to impress. The large screen on the Optimus 2X immediately grabs your attention, being 4 inches with a resolution of 800 x 480 pixels, even though this is typical amongst the higher-end Android smartphones, it's still a great quality display with vibrant colours and brightness. Perhaps its not quite as good as the Super AMOLED display of the Samsung Galaxy S, but its so close you wouldnt notice unless comparing them both side by side.

The styling of the LG Optimus 2X is controversial, some think its a modern high tech look, while others prefer the elegant simplicity of the Google Nexus S. Styling differences aside, its all pure Android with the standard Android keys (menu, home, back and search) and layout. On the back of the handset you will find the 8-megapixal camera with LED flash and full HD video capture.

The first LG Optimus 2X models to arrive in the UK were powered by Android 2.2, however this was designed to be an Android 2.3 device and LG are expected to roll the updates out soon. The Tegra 2 chipset handles almost all common video formats (H.264, MPEG2, MPEG4, DivX, XviD, WMV) and will play Full HD content locally or on a HDTV through the HDMI cable supplied. Having Full HD video capture for the first time in a mobile phone is a major innovation for LG. You can upload your HD videos directly to YouTube and Facebook with just a few clicks. All the goodies from Google's mobile OS are present in the Optimus 2X (Gmail, contacts, calendars, Google Maps and access to apps in the Google Market), as well as hardware support for Flash video. The browser experience is also top notch with fast loading web pages and sleek multitouch control.

However, all the power of the LG Optimus 2X does come at a price, battery life. This is a power hungry handset, most will find that the Optimus 2X won't make it through the day on a single charge. This is the price you simply have to pay for such a hugely powerful device. The Full HD performance (particularly when streaming through the HDMI into a TV) is the best performance from any mobile devie ever, the touchscreen is awesome, the build quality is great, and in terms of sheer power the LG Optimus 2X currently outclasses most of its rivals. This is a hugely capable device that is highly recommended!

| | |
| --- | --- |
| | |
Submit Your Own Review!