Home
»
LG
»
LG KS365 purple
»
Reviews
LG KS365 purple Review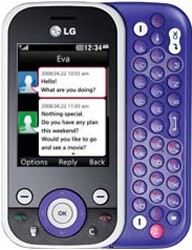 The LG KS365 is following the popular trend of the latest handsets to offer a full QWERTY keypad. This is a fun handset with a unique design featuring touch and slide functionality. The combination of slide out keyboard and great touchscreen dispay with vivid colours. Available in red, blue and pink.

The LG KS365 offers all the useful features consumers expect from smartphones such as social networking, mobile internet browser, microSD card storage, media player and 2 megapixel camera. This handset is all about fun and user experience. However, it does lack some high-end technologies and functionality with no 3G or WLAN (wireless connectivity). The mobile may not have all the features its siblings such as the LG Cookie Music, but due to the affordable price tag, the LG KS365 is in its own niche.

The KS365 has got to be one of the most vibrant and attractive looking handsets released by LG this year. Available is stunning range of colours (pink, red and blue) with an amazing touch screen display. A touch and slide phone, by pushing the screen towards left, the full QWERTY keyboard appears and below that there are the seven major function keys along with the standard navigation button. The screen is 2.4 inches with 256,000 colours and a decent resolution of 240 x 320 pixels. The handset itself measures just 101.5 x 51 x 16.8 mm and weighs in at 111 grams.

The KS365 has onboard memory that is capable of storing up to 1000 phone book contact entries and additional storage is available in the form of microSD card slot which supports up to 16 GB memory capacity. However the memory card is not included in the purchase, you need to buy it separately.

The KS365 is not just a communication device, but also as an entertainment centre. Capable of playing music, videos and viewing images. The LG KS365 has a number of multimedia features, such as the 2 megapixel camera with 1600 x 1200 pixel resolution. It may seem a quite ordinary specification camera as today you will find many phones with high-end camera features. However, for budget conscious buyers, these features are moderate but useful and practical. A music player and video player are integrated in the handset. The music player supports MP3 and eAAC+ files while the video function plays MP4 and H.264 files. Music lovers also enjoy stereo FM with RDS too.

In summary, the LG KS365 is a decent mobile phone. If you are looking for an attractive handset with basic features and an affordable price tag, the KS365 should definitely feature on your short list.

| | |
| --- | --- |
| | |
Submit Your Own Review!