Home
»
Huawei
»
Huawei 8510 Blaze
»
Reviews
Huawei 8510 Blaze Review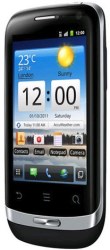 Huawei may seem like a new name in terms of mobile phones in the UK, however, effectively Huawei phones have been available in the UK for some time, in the form of the Orange Barcelona which was simply a re-branded Huawei U8350. The Blaze however, is the first mobile Huawei has released under its own name, featuring Android 2.3 Gingerbread and retailing on PAYG for under £80 it looks like a real bargain. Over and above the excellent Android 2.3 Gingerbread and all the familiar Google apps, the Huawei Blaze offers a range of useful software such as a file manager, custom keyboard and a social aggregator called Huawei Social Club. The latter aggregates all your contacts from Facebook, Twitter and Flickr, and has a home screen widget that can display the latest updates. Unusually the Huawei Blaze offers TouchPal keyboard as standard rather than offering the more popular Swype.

The hardware on the Blaze is obviously not going to rival flagship smartphones, but in this price range looks incredibly good value. Featuring a 320x480 capacitive touchscreen that is both bright and colourful while being smooth and responsive in use (the screen however is much better than similarly specified phones like the Samsung Galaxy Pro). The Blaze's basic 600MHz processor provides decent performance for the most part, though sometimes it can't keep up if you have too many applications open at once. The 3.2-megapixel camera takes decent snaps with good colour and handles most lighting conditions quite well, the video is less impressive, although adequate for a budget phone, surprisingly the Blaze has a front-facing camera though at the time of writing this wasn't recognised by Skype, hopefully this will be resolved in the near future when Huawei updates its firmware.

The Blaze's is a compact handset and that 3.2 inch screen keeps the phone's overall size down, so it slips comfortably into any pocket and the rubberised rear makes it easier to hold. With an almost fresh version of Android, good preinstalled apps and a clear, bright (although small) screen, the Blaze is one of the best budget smartphones on the market. Occasionally laggy performance aside there is little to complain about at this price. A remarkably inexpensive smartphone from a manufacturer keen to make its name in the bustling Android marketplace. In fact Huawei have announced that they intend to be one of the worlds top mobile manufacturer within the next three years with a strategy based on shipping more affordable smartphones, with cheap and cheerful handsets like the Blaze, Huawei could well be onto something! For anyone interested in internet access, messaging and smartphone apps, the Blaze is a great entry-level option that offers much of the high end functionality at a fraction of the price.

| | |
| --- | --- |
| | |
Submit Your Own Review!