Home
»
HTC
»
HTC Wildfire S white
»
Reviews
HTC Wildfire S white Review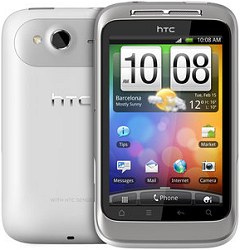 The original Wildfire was marketed as an entry-level Android device which looked much like the Desire, however a poor screen and lack of processing power relegated it to the also ran category. The Wildfire S is an attempt by HTC to solve the major issue that ruined its forerunner, namely that screen. Resolution has increased from a very basic 240 x 320 pixels to a much more agreeable 320 x 480 pixels. It's still not in a position to challenge the class leaders like the iPhone 4, but it's a vast improvement.

The metallic body of the Wildfire S reminds you of the Desire S and its robust aluminium frame. The Wildfire S doesn't have the same unibody construction, but it does have a reassuring sturdy feel. The Wildfire S is a tiny handset, just 12.4mm x 101mm x 59mm. In fact if you have large hands or fingers you may find this handset is too small!

Another area of improvement is the inclusion of the Android 2.3 Gingerbread operating system. In fact the Wildfire S actually runs 2.3.3 the most up to date version of Google's mobile operating system. Unfortunately the Wildfire S can't actually take advantage of some of Gingerbread's features. For instance there is no front facing camera for video calling, and without an NFC chip there are no means to take advantage of wireless payments. In addition the processor from the old Wildfire has been retained, at just 600MHz (slightly better than the 528MHz chip of the original) this processor simply isn't up to the task of running all the latest Android apps and games.

The 5-megapixel camera from the original phone is also carried over into the Wildfire S. This unit offers basic picture and video-recording quality with an LED flash. A 2 Gigabit microSD card is included in the retail pack which allows you to make good use of the camera and the included music player. The Wildfire S boasts good connectivity too, with both Wi-Fi and 3G on the menu.

Despite the improvement over the previous model in terms of the screen resolution and and operating system. The Wildfire S feels slightly behind the times due mainly to the  sluggish processor. There are a number of low-cost Android smartphones on the market today and users are spoilt for choice, this means HTC has something of a fight on its hands in this market. Despite that, the Wildfire S is still a contender, especially if you don't like those huge smartphones which are ruling the roost these days.

| | |
| --- | --- |
| | |
Submit Your Own Review!