Home
»
HTC
»
HTC Wildfire S black
»
Reviews
HTC Wildfire S black Review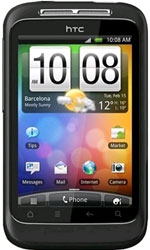 Launched at the same time as the best-selling HTC Desire, the Wildfire S is an entry-level Android smartphone for mobile users on a budget. Mimicking the look of the Desire, the Wildfire S lacks the processing power that makes the Desire so popular. The Wildfire S offers a 3.2 inch LCD touchscreen with a resolution of 320x480 pixels, no challenge to the retina display on the iPhone 4's, but a perfectly decent screen for this price band. The Wildfire S is a teeny little handset, a bit chunky at 12.4mm thick, but just 101mm tall and 59mm wide.

Running Android 2.3.3 Gingerbread, the Wildfire S is a vast improvement over its predecessor. In fact the hardware onboard the Wildfire S can't take full advantage of the power of Gingerbread, for example there's no front-facing camera so no video calling, and no NFC chip means no wireless payments. The 600MHz processor is slightly underwhelming too, even for such a modestly priced handset, the chip will handle all the everyday tasks no problem, but will baulk at the very latest Android apps and games.

The Wildfire S has a 5-megapixel camera which offers reasonable picture and video-recording with an LED flash. A 2GD microSD card is included in the retail box for extra storage and the Wildfire S has a standard 3.5mm headphone jack too. Connectivity options are good with both Wi-Fi and 3G available. The 1,230mAh battery is good for around a full day of use before needing a top-up charge (in keeping with most smartphones nowadays).

The budget smartphone market is a busy place with tons of low-cost Android smart phones available such as the Samsung Galaxy Ace 2. The Wildfire S holds it's own in this class, as long as you're not expecting a top of the range device, most will be pleased with the Wildfire S. it's an especially good choice for those who are not keen on huge smartphones with gigantic screens! With 3G, 3.2 inch TFT capacitive touchscreen, 5 megapixel camera, WiFi, GPS and Bluetooth, all wrapped up in a pocket friendly package for less than a tenner a month from the UK networks, one of the best budget Android handsets on sale today!
| | |
| --- | --- |
| | |
Submit Your Own Review!