Home
»
HTC
»
HTC Sensation XL lite
»
Reviews
HTC Sensation XL lite Review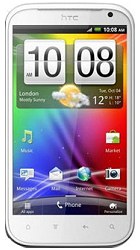 The HTC Sensation XL Lite with Beats Audio offers an amazing audio experience (however this lite version does not include Beats Audio headphones in the retail pack and you really need the customized Beats Audio headset to receive the full benefits), music videos look incredible too on that 4.7 inch screen and there is even an HD video recording capability. The Sensation XL Lite however offers a lot more than just premium audio, there is also a great great 8 megapixel camera with HD video recording and twin microphones to record with surround sound and cancel out unwanted background noise.

The 4.7in screen has a 480x800 resolution, which doesn't sound much these days, but it's really bright and colourful and is almost a match for the Galaxy Nexus which offers 720 x 1,280 resolution. Despite the lack of a dual-core processor, the performance of the XL Lite is excellent with smooth transitions and no lag or jerkiness of the type often seen in cheaper Android phones. With that large screen and 3G, Wi-Fi, Bluetooth and GPS on board, the HTC Sensation XL Lite prsents a serious challenge for any mobile battery, but like most of the competitors (except perhaps the iPhone 4 with it's superb battery performance), you will get a full day of mixed use with perhaps two days of light use from a single charge.

Storage on the XL Lite is a bit of a sore point however, with an advertised 16GB of internal storage and no memory card slot, in practice there is only around 12Gb available after the operating system has taken its share, which leaves 4GB for app storage and 8GB for user files, this isn't a lot for music storage these days and even less for video, so with no memory card users may find they have to connect to their home PC to change which files they carry on their phones.

The 8-megapixel camera on the XL Lite has a powerful twin-LED flash and lots of useful photography features, the only real weakness of this handset is the lack of a microSD slot. However, overall, this is a cracking smartphone and is available on some very reasonable contract deals. You get a stylish handset, amazing screen, good camera, multi-window browsing, 3G, Wi-Fi, Bluetooth, GPS and superb audio - the lack of expandable memory is only real weakness and many will also feel that they may as well go for the Sensation XL which is only slightly more expensive and comes with the excellent Beats Audio Headphones included. For the same or similar money, other handsets worth considering are the Motorola RAZR or the Samsung Galaxy Nexus.
| | |
| --- | --- |
| | |
Submit Your Own Review!