Home
»
HTC
»
HTC Sensation
»
Reviews
HTC Sensation Review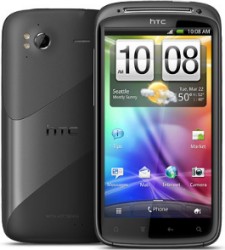 HTC seems to be spewing out decent Android smartphones lately. The Desire was probably the handset that put HTC firmly in consumers minds in the fight to rival the iPhone, but since then technology has moved on with devices such as the Samsung Galaxy S2, Motorola Atrix or LG Optimus 2X, today dual-core processor handsets have become the norm for smartphone users. To compete in this high tech marketplace, HTC have launched the Sensation, a phone which ticks all the technology and hardware boxes - 8 megapixel camera, 1080 pixel video recording, dual core 1.2GHz Qualcomm processor and a high resolution 4.3 inch touchscreen.

The HTC Sensation is a little bit larger than many rivals at 11.3mm thick (much thicker than the Galaxy S2 for instance). This is perhaps due to the incredible amount of technology packed into the phone, such as the qHD 540 x 960 pixel resolution 4.3 inch display. This display is fantastic for browsing the web, easily as good as any other screen in the Android range with amazing resolution. The qHD technology resolution makes web pages look crisp and clear with pictures and video loading with slick ease with of course the Flash 10.3 integration. The HTC Sensation is the possibly the best HTC device for internet use ever.

The camera on the Sensation has an 8 megapixel sensor with a dual-LED flash and autofocus feature. The autofocus feature is essentially the same one previously in the Desire HD and Desire S previously, focus can be altered by tapping the screen and the Sensation will automatically work out the optimum light levels needed for optimum exposure values. There are an incredible array of shooting options on offer too, but it's the video recording than is better thane ever before, with 1080 pixel video footage made possible by the 8MP sensor and dual core 1.2GHz Qualcomm processor. Video footage at 30 frames per second is nice and smooth (better even than the HTC Desire HD). The HTC Sensation has a range of connectivity options on board too, Wi-Fi is improved over the HTC Desire S and the Samsung Galaxy S2, which is useless in mid-strength Wi-Fi signal zones.

The HTC Sensation pretty much ticks all the boxes for smartphones, impressive contact integration, amazing qHD screen, unrivalled internet browsing speed, superb camera and video recording and the general speed and slickness of every function thanks to the superfast dual core processor, means that the Sensation is a great phone for all users.

| | |
| --- | --- |
| | |
Submit Your Own Review!