Home
»
HTC
»
HTC Radar
»
Reviews
HTC Radar Review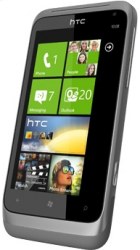 The Radar is the latest smartphone from HTC to run on the Windows Phone 7.5 operating system (or Mango), following on from the previous Windows device the HTC Titan. The HTC Radar is a solid handset with a quality feel, due to the fact it's crafted from a single piece of metal and weighs in at 137g and measures 120.5mm x 61.5mm x 10.9mm. In terms of looks it is very similar superficially to the Google Nexus One, but, obviously, there's no trackball instead the compulsory three Windows Phone 7.5 soft keys are used for navigation. The display resolution and screen size on the Radar are exactly the same as the HTC Trophy, but the Radar feels like a much classier device due to the solid construction (the Trophy was a plastic affair), thanks to its metallic aluminium unibody, the Radar certainly feels a premium-grade phone in comparison.

The main competitors for the HTC Radar on the market right now are probably the BlackBerry Curve 9360 and Apple's iPhone 3G, and of course the Android powered HTC Rhyme. Like the HTC Trophy, the Radar features a 1GHz processor with 512MB of RAM. However, the Radar more under the hood being powered by Qualcomm's MSM8255 Snapdragon chipset, which has around four times the performance of the Adreno 200 chipset used in the Trophy. There's also 8GB of internal storage, however only around 6GB is available with the rest being used by Windows, and no support for microSD cards for memory expansion. Of course the lack of expandable storage isn't down to HTC, Windows Phone does not support external storage (like Apple's iOS).

The latest chipset and fast processor give smooth performance, much like all Windows Phone 7 handsets. In use, Windows 7.5 is as smooth as the iPhone 4 and multitasking is handled perfectly in Mango (Windows Phone 7.5 operating system). Like the Apple iOS, apps in the background are frozen, so they don't use processor cycles or battery, this allows the Radar's to last around a day and a half of moderate browsing, making/receiving calls, checking email and listening to music before the battery finally dies.

The Radar features a decent 5-megapixel camera with a back-illuminated sensor which produces impressive photographs even in low-light conditions and 720 pixel video recording. While imaging isn't really the Radar's strong point, when compared to some of its competitors, like the HTC Desire S, it's perfectly adequate.

The HTC Radar is a good, solid business handset with decent media offerings, good Exchange integration, a decent camera and excellent battery life. The build and quality is top notch, and it feels so much better in terms of value for money when compared to the HTC Titan.

| | |
| --- | --- |
| | |
Submit Your Own Review!