Home
»
HTC
»
HTC One X
»
Reviews
HTC One X Review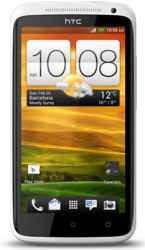 The HTC One X is not a device to be quietly slipped into a trouser pocket, this is a big and beautiful phone packing a quad-core processor (the first HTC device with a quad-core processor). It's also got Android Ice Cream Sandwich with the latest version of HTC's user interface, Sense 4.0. Quad-core processors excel in multi-tasking environments and for 3D gaming, which means tabbed browsing, playing music, browsing on the web, and checking email at the same time is a breeze (however some dual core processors handle multitasking just as well). The HTC One X runs the latest version of Google's Android OS, Ice Cream Sandwich. However in this example it's not pure Android as it has the newest version of HTC's Sense software running as the user interface. This latest Sense interface is fast and lightweight with elegant 3D effects that add to the overall Android experience without bloating the interface.Â

The One X's main feature has to be its massive sized screen however, it's the first thing you notice as eyes are drawn to its bright 4.7-inch Super LCD display. Despite the overall size of the One X, it's actually relatively thin and lightweight due to the use of polycarbonate for the casing rather than metal. On the rear of the handset you will find an 8-megapixel camera lens protruding slightly from the casing. Underneath there is a Beats Audio logo, loudspeaker holes and dock connection port along with a standard 3.5mm headphone jack on top with micro-USB port on the side.

The 8-megapixel camera and flash supports full HD 1080p resolution video and features the new HTC image chip, an f2.0 lens and back-side illuminated sensor with updated HTC camera software with better snapping and auto-focus times. All "One" Series phones have Beats Audio tech with the Beats branding on the back. HTC has also partnered with Dropbox for all One Series devices so you get 25GB of Dropbox storage, free for two years to store snaps, music and video. Contactless NFC technology is also supported so you can swipe this handset over a contactless reader to make purchases, but this technology has yet to catch on in the UK and the HTC One X is a lot bigger than a debit or credit card!

At the time of this review HTC had yet to confirm full pricing details but expect the price to be at the upper end of uncompromising. This is a high-end handset and one of a rare new breed of quad-core phones so you'll doubtless be paying a premium to own one. It is available on pre order with Vodafone, T-mobile and Orange at under £20 per month (including discounts) on a 24 month contract from and is expected in stores by end of April 2012.
Related Pages
Submit Your Own Review!