Home
»
HTC
»
HTC One S black
»
Reviews
HTC One S black Review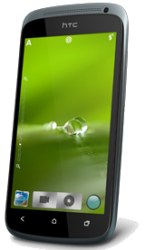 The HTC One S is very fast and responsive thanks to the newest version of Google's Android mobile operating system, Ice Cream Sandwich, and the latest HTC 4.0 Sense. The handset comes fully loaded with a dual-core 1.5GHz chip, 8-megapixel camera and is waif-thin at just 7.95mm. There's a choice of finishes, either black, carbonised ceramic or gradient grey metal. The dual-core 1.5GHz processor has plenty of power for most people's needs and the One S is ludicrously fast in operation with apps loading in no time at all. Courtesy of Ice Cream Sandwich you get some extra neat features like the ability to unlock the phone just by looking at it (Face Unlock) and the option to use the Google Chrome for Android browser, which is Ice Cream Sandwich only.

The HTC One S has a generous 4.3-inch display, which is big enough to useful but not so big that you can't hold it comfortably in one hand. The 4.3-inch LCD display. has a resolution of 540x960 pixels, or a density of 256 pixels per inch, less than the One X and the Sony Xperia S, but better than the Samsung Galaxy S2, however the upcoming S3 is expected to have a more competitive pixel count. The device feels solid and well made, and HTC claim the ceramic finish is five times tougher than a standard anodised casing and it should be able to resist light scratches well. Despite this mostly metal casing, the One S feels relatively light at just 119.5g.

The camera on the HTC One S is the same as the one on the HTC One X, an 8 megapixel unit with an f2.0 lens, back illuminated sensor and improved camera software with burst mode (take up to 99 photos in a continuous sequence simply by holding a finger on the shutter button) and the ability to take stills while you're recording or playing back a video. Video can be recorded in 1080p resolution and the Full HD footage looks good.

In common with all of the HTC One range, the One S features "Beats Audio" to bring a range of audio enhancements. To store all the music you will be happy to find that the One S comes with 16GB of internal storage, unfortunately this can't be expanded as there is no microSD card slot, but included in the price are two free years access to 25GB of cloud storage from Dropbox (a handy cloud storage locker). You can even configure the One S to automatically upload photos and videos taken on the phone to your Dropbox account as an automatic back-up feature.

The HTC One S is a very good handset indeed, it's lighting fast and even though the lack of a microSD card storage may put some people off, the 25GB of free Dropbox storage should be enough to win them over.
| | |
| --- | --- |
| | |
Submit Your Own Review!