Home
»
HTC
»
HTC Incredible S
»
Reviews
HTC Incredible S Review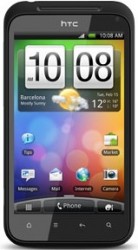 The Incredible S (at the moment exclusively at Carphone Warehouse) features a 4 inch touchscreen and four touch-sensitive buttons below the screen for the standard Android options of home, menu, back and search. These buttons are backlit and fade out when the phone is sleeping giving the handset a stealthy and futuristic look. The original Incredible handset, on which the "S" is based, was a big hit in the USA. However the Incredible S runs a slightly dated version of Android, namely 2.2 Froyo, so is not quite as cutting edge as the first Incredible.

However the latest version of Android, Gingerbread, actually only adds a few extra features like SIP calling and NFC support, but you will miss out on some bug fixes and speed improvements with the Android operating system. That being said the Incredible S is not slow or buggy by any measure. Its a moot point anyway as HTC have announced that the Incredible S will receive an update to Gingerbread soon. Even without the latest Android version, the Incredible S has many great features. For instance the mobile Web browser is the best available in any price range. Web pages displayed on the Incredible S look as good as they would on a PC or laptop. Partly due to the hardware (that 4 inch screen), partly the excellent software (the combination of browser and Android) and partly due to the fact that Android 2.2 also supports Flash, which means you donĂ¢â'¬â"¢t have to experience the Web without videos and photo slide shows.

Building on the already good foundations of Android, HTC's customised user interface, Sense, improves the phone user experience with slick-looking apps and widgets. The power to run all these widgets and applications comes courtesy of a single-core 1GHz processor, which seems basic in terms of spec when compared to the latest dual-core powered handsets like the LG Optimus 2X or the Motorola Atrix. But, in practical terms the Incredible S is smooth and responsive in use. The Incredible S also has an 8-megapixel camera with dual LED lighting. There is also has a torch application utilising the same LED's.

Even without using the photo lights, the Incredible S' camera does a great job. Its shots are noticeably noisier than those of a compact camera, and its colours less accurate, but its images are still sharp and well exposed. We'd be perfectly satisfied using the Incredible S to capture day-to-day snapshots and videos.
Conclusion

In fact, other than a slightly older version of Android, there's nothing much to criticise with the Incredible S. It's a fun handset, which is smooth and easy to use with lots of useful smart-phone features. It has an innovative appearance, well designed widgets and a great camera. Despite the single-core processor and slightly older version of Android, The HTC Incredible S smart phone is a credible choice.

| | |
| --- | --- |
| | |
Submit Your Own Review!