Home
»
HTC
»
HTC Desire S
»
Reviews
HTC Desire S Review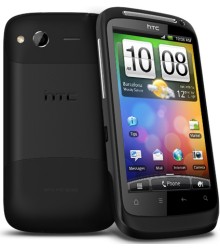 The HTC Desire S is an evolution of last year's massively popular Desire phone. The Desire S has built on the success of the previous handset to create a thoroughly accomplished Android successor. The original handset was hardly an ugly device, but the new Desire S is a vast improvement. The Desire S has an aluminium chassis much like the HTC Legend. The Desire S has its entire body machined out of one complete piece of metal, which gives it a reassuringly solid and robust feel. The touchscreen however remains the same with 480x800 pixel resolution and 3.7 inches. Whilst the display cannot compare with the Desire HD's massive 4.3-inch touchscreen, or directly rival the iPhone 4's razor-sharp resolution, it's a great screen.

Underneath the new aluminium exterior, the Desire S offers a number of small improvements over its predecessor. The processor is the same Snapdragon 1GHz item, but has an increased 768MB of RAM. But, in terms of sheer power, the Desire S is outclassed by the some of the dual core phones such as the LG Optimus 2X or Motorola Atrix. Though it may lack outright processing power, the software is bang up to date, running Android 2.3 Gingerbread which offers better memory management with performance boosts and built-in video calling. On top of Gingerbread you have HTC's proprietary Sense interface which offers additional functionality and makes genuine improvements to the Android software experience. Surfing the internet on the Desire S is refreshingly trouble free, with a speedy browser and Flash support.

One area on the Desire S that is slightly disappointing, with a 5 megapixel unit featuring LED flash. Its by no means a bad camera, its just that the rest of the phone is so good you expect more from the camera. The 720 pixel video capability is decent, but there are phones now offering 1080 pixel resolution and this will soon become the norm for smart phones. There is no ability to connect up your phone to a television via HDMI either, however you can wirelessly stream video from your phone to compatible hardware such as the PlayStation 3 or Xbox 360 via DLNA apps.

The HTC Desire S is no doubt an improvement on its predecessor, but perhaps not the upgrade that some were hoping for. That unibody aluminium design along with the latest version of Android 2.3, make the HTC Desire S a very desirable phone, but the absence of dual-core processing power make the Desire S feel more like a mid range phone than a market leader. Still its a seriously appealing mobile phone with a stunning design.

| | |
| --- | --- |
| | |
Submit Your Own Review!