Home
»
HTC
»
HTC Desire HD
»
Reviews
HTC Desire HD Review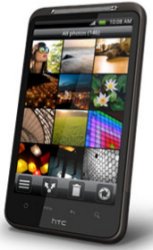 For many the HTC Desire HD may be the ultimate smart phone, this is a big handset for the average user, with portability sacrificed in favour of power. but once you get over the size you won't be disappointed. The Desire HD has the best Web browser in the business with a screen that encroaches on tablet territory. The immediate and obvious difference between the Desire HD and its smaller brother the Desire, is of course the screen. Increased from an already generous 3.7 inches to a huge 4.3 inches. It has WVGA resolution of 480 x 800 pixels, it doesn't have the incredible saturation of the Samsung Galaxy S or the sharp resolution of the iPhone 4, but it's very good indeed. The touchscreen is not only large, it's also fast and responsive, perhaps not quite as smooth as the iPhone, but thats nitpicking really.

The Metal case feels reassuringly solid but there is a trade-off in terms of weight, the Desire HD weighs in at a hefty 164g. it does feel big in your hand but is still easy to fit in a pocket, its up to the individual whether the performance of the Desire HD is worth the extra heft. If you are a web addict then you will no doubt think the extra heft is worthwhile, in terms of internet surfing, the Desire HD is possibly the best smart phone available. WiFi and 14.4Mbps HSDPA for high download speeds over 3G are of course standard. The software helps with a great Web browser which best of all supports Flash Player 10.

If you are looking for the biggest, baddest smartphone of all and want the most feature-packed handset that money can buy, the HTC Desire HD is the mobile phone for you. You get a massive and bright screen, sturdy aluminium case, excellent social network integration, amazing browser with Flash support and the Android operating system with the added enhancement of HTC Sense. The only downside is perhaps the sheer size of the handset. The Desire HD is simply a bigger and better version of the HTC Desire which itself is a great mobile phone.

If you don't mind the size, you will love the HTC Desire HD, in this case bigger is better and size does matter! This HTC Desire HD is an uber smartphone which eclipses almost everything else on the market.

| | |
| --- | --- |
| | |
Submit Your Own Review!