Home
»
HTC
»
HTC Desire C white
»
Reviews
HTC Desire C white Review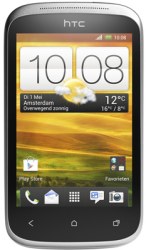 The latest budget Android handset from HTC is yet another phone designed to offer the experience of Ice Cream Sandwich to the masses. This all new phone certainly does not mark a significant chane in terms of style from HTC. It looks like any number of other handsets on the market being a pretty uniform black slab encased in rubberised plastic, with the front of the phone covered almost entirely by a single sheet of glass.

The 3.5-inch capacitive touchscreen has a resolution of 320x480 pixels with 165 ppi, a pretty decent specification at this price, though well behind the top of the range smartphones available. The Android 4.0 Ice Cream Sandwich experience is great on a phone at this price, but you don't get all of the features. For example there's no face unlock as there is no front-facing camera, 3D graphics are pared back, and the processor isn't quite up to the full blown Ice Cream Sandwich experience.

HTC has also pared back some of the graphics on its Sense interface, as the full version would likely have put a strain on the processor. At just 600MHz the processor specification is less than impressive, the vast majority of the time everything works just fine, but if you push it there can be some frustrating lag. There are handsets in this price range that offer much more powerful processors, however at the time of writing none of them offer Ice Cream Sandwich, but they are upgradable so this could change in the near future (for example the Sony Xperia U has a much faster 1GHz dual-core processor and Sony have announced they will be upgrading to ICS soon).

The five-megapixel camera is capable of delivering some decent snaps in good light and there are some great features such as face detection and smile capture, plus a range of neat effects, all in all, not a bad camera at all. The Desire C has NFC on board so is ready for mobile payments, if you can find a retailer that is NFC equipped and you're ready to risk it. The Desire C also comes with Polaris Office pre-loaded allowing you to create and edit Word, Excel and PowerPoint docs.

The HTC Desire C is a Beats Audio branded phone, however it doesn't come with any headphones which is disappointing, but at least it has the audio processing built in so is good to go once you have purchased your own headphones and there is a standard 3.5mm jack so almost any after-market cans will be fine. You also get HTC's Dropbox free for 2 years, which offers 25GB of online storage. The Li-ion 1230mAh battery is good for a smartphone too, with around a day and a half of mixed use possible from a single charge.

The HTC Desire C is an all round pretty decent smartphone, compact at 107x61x12mm and just 98g, and the Ice Cream Sandwich experience is great even if you don't quite get the "full fat" version, plus the camera is half decent too, it's only the low-powered processor that lets things down slightly when compared to other low-priced Android rivals.
| | |
| --- | --- |
| | |
Submit Your Own Review!