Home
»
HTC
»
HTC 7 Trophy
»
Reviews
HTC 7 Trophy Review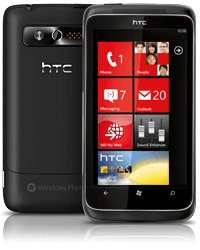 HTC has a well deserved reputation as a manufacturer of well built and technologically advanced handsets, and the Trophy is another handset that fits squarely into that area. Tipping the scales at 140g and measuring 62mm x 119mm x 12mm, it's a pleasing size and comfortable in your hand or pocket. The display is bright, sharp and crystal-clear using 3.8 inch screen offering a resolution of 480 x 800 pixels. Running Microsoft's all-new mobile operating system, the HTC 7 Trophy is slick, very fast and enjoyable to use.

The camera on the back of the Trophy is a decent 5 megapixel unit and the camera software really simple to use, the Trophy also has 720p video- recording capability which is capable of recording some impressively smooth footage. However in terms of hardware is has to be said that the HTC 7 Trophy doesn't really stand out from the crowd. This is of course due to the minimum spec requirements that Microsoft imposes on manufacturers who want to build phones that run Windows Phone 7. For example, every handset needs to have a a 1GHz processor, multi-touch display, a minimum of a 5 megapixel camera, an FM radio tuner, an accelerometer, and a compass.

The benefit of this minimum hardware specification is that you get a consistent, high standard Windows Phone 7 experience. However,the downside is that there's not much to distinguish handsets running Windows Phone 7 from each other. The HTC 7 Trophy, for example, is very similar to the HTC 7 Mozart, the main differences being the Trophy has a lower-resolution camera sensor and is slightly cheaper to buy.

That being said, the HTC 7 Trophy is a fine mobile phone if you desire a Windows Phone 7 handset. But, all the Windows phones are so similar its simply a case of finding the one that particularly suits you. Whichever phone you choose, you will find a sharp, colourful display, decent camera, fast operating system and decent build quality. The HTC 7 Trophy is marginally the cheapest of the Windows phones on the market due to slightly more modest hardware (ie 5 megapixel camera instead of an 8 megapixel unit) but it's still well worth checking out as a very capable smartphone that ticks all the boxes for a competitive price.

| | |
| --- | --- |
| | |
Submit Your Own Review!