Home
»
HTC
»
HTC 7 Pro
»
Reviews
HTC 7 Pro Review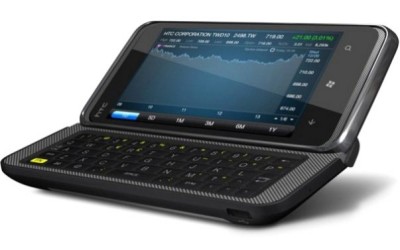 Compared to other HTC phones, such as the HD7 and Mozart, the Pro is a rather unwieldy handset. It weighs in at 185g and it's hardly a slim at 16mm either. This bulk of course is all due to that excellent slide-out Qwerty keyboard. Although this keyboard feature makes the phone bulky, typing is a super-fast experience. It perhaps is not quite as quick as using a Swype equipped touchscreen phone, but it's definitely much faster than using a standard touchscreen virtual keyboard.

The HTC Pro has a satisfying abundance of chrome and reassuring quality, with a 3.6 inch capacitive touchscreen similar to the Android HTC Desire Z, but smaller than the 4.3 inch HD7. Likewise the camera, which is a decent 5 megapixel unit, is a class below the 8 megapixel unit on the HTC Mozart, although it does feature 720 pixel video recording.

The Pro features Hub skin which is similar to HTC's Sense interface on its Android phones and the photographic capabilities are enhanced with the inclusion of Microsoft's SkyDrive (the facility to upload images to cloud based storage). Skydrive is particularly useful for Windows Phone 7 devices as Microsoft's mobile operating system does not currently support additional storage by way of microSD card slot.

The battery life on the HTC 7 Pro is pretty decent, lasting for over a day in average usage. Although this particular achievement is perhaps due to the lack of Flash support in the internet browser and the fact that Windows 7 OS does not provide multitasking capability.

The HTC 7 Pro offers much to recommend, such as that superb slide-out tilting keyboard, slick operating system and 720 pixel video recording and playback capabilities. This may be enough to appeal to those consumers who have not used a smartphone before and are the text happy business types often attracted to Blackberry devices. But existing Android or iPhone users are unlikely to move to Windows Phone 7 based on the strength of this phone. By no means a bad phone, HTC 7 Pro is never the less outclassed by similarly priced competitor handsets. The lack of Flash support and additional storage with microSD cards will be enough to stop Android or iPhone users changing brands.

The HTC 7 Pro is without doubt the most significant mobile phone launch for the Windows Phone 7 platform so far. The slide-out Qwerty keyboard with innovative screen-tilting mechanism may be enough to win the hearts and minds of users, despite the fact many rivals offer a more complete package.

| | |
| --- | --- |
| | |
Submit Your Own Review!