Home
»
Google
»
Google Nexus S
»
Reviews
Google Nexus S Review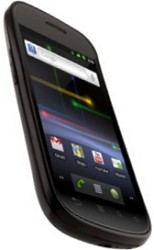 The Google Nexus S (manufactured by Samsung) featuring the new Android 2.3 "Gingerbread" operating system is a handset designed with direct input from the Google Android team. These Google influenced phones offer a clean version of Android with no additional software layer from third parties to interfere with the Android experience. This phone was developed from the award winning Samsung Galaxy S but will not be sold direct from Google but through the Carphone Warehouse in the U.K.

This handset is significantly faster than the Nexus One and most current Android phones for that matter, the Nexus S offers a high-end AMOLED 400 x 800 pixel resolution screen that is second in display quality only to the iPhone 4. Like all other Android handsets, the Nexus S is easy to set up and configure for all the various Google  apps such as Gmail, Google Calendar and Google contacts etc. The availability of Google's various apps, along with the excellent hardware from the Galaxy S, make the Nexus S possibly the best phone available on the market today.

The Google Nexus S utilises the latest 1 GHz Hummingbird processor, which is super powerful and handles running multiple Android apps and background processes with ease. The Super AMOLED touchscreen measures 4 inches and has 480×800 pixel resolution and comes a very close second to the higher resolution iPhone 4 screen. Despite the technology and that huge screen, battery life is better than average with over 6 hours of heavy use possible from a single battery charge. Obviously less than a full day of use from a battery charge is not exactly ideal, but compared to other large screen smartphones (the HTC Evo for instance) 6 hours is exceptional.

The 5 megapixel camera with built-in flash performs well and the Nexus S also features a gyroscope, accelerometer, compass, light sensor, proximity sensor and keyboard haptic feedback. In addition Wifi, GPS and bluetooth are all present and work flawlessly. Also present, but not quite so useful, yet, is Near Field Communication (NFC). NFC is likely to prove very popular over the next few years and the technology is likely to allow your phone to take the place of a credit card in retail stores. NFC will also be used to swap data between phones with a minimal fuss, though not strictly necessary, Google is essentially future-proofing the phone with NFC technology.

If you are a current iPhone user, the Google Nexus S probably isn't enough to make you switch. But if you are an Android fan, this is the mobile phone you will want above all others. It is actually better than the iPhone in many ways, perhaps all that's missing is the coolness of the Apple branding.

| | |
| --- | --- |
| | |
Submit Your Own Review!