Home
»
Dell
»
Dell Venue Pro
»
Reviews
Dell Venue Pro Review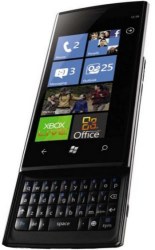 The Dell Venue Pro is easily distinguished from other Windows Phone competitors thanks to its distinctive slide out keyboard that lets you type in portrait mode like a laptop.
In addition to this unique portrait-sliding keyboard, the Venue Pro offers a robust build quality not found in many competitors, however this is not a tiny phone, nor is it lightweight (due to that amazing sliding keyboard), but it does pack in a lot of smartphone features. Having the choice of physical and touchscreen keyboards is an innovation in the market, the sturdy design and easy to use interface will appeal to buyers too.

Another plus point to the phone's design is the vibrant AMOLED screen, which dominates the front of the handset thanks to its 4.1-inch size. Although it's not quite as bright as the Super AMOLED variant showcased by the Google Nexus S and Samsung Galaxy S II, it's still impressive. The Dell Venue Pro, like its Windows 7 competitors, is powered by a nippy 1GHz processor with 512MB of memory. The handset is always slick and responsive, with little to no describable lag. Apparently the reason for this speed is due to Windows Phone 7 being designed as a streamlined operating system, to make the most of basic processor speeds.

The Venue Pro is unquestionably a fantastic phone for texting and emailing,largely due to that huge keyboard, however with the physical keyboard exposed, this is a big phone! But being able to use the keyboard in this fashion (i.e. without having to hold the phone sideways) is definitely going to be a bonus for BlackBerry users who may be tempted by the new Window Phone 7 operating system, as the text entry system is just as effective as the popular Blackberry system.

If you are considering moving to Windows Phone 7 and require a physical keyboard in addition to a virtual touchscreen keyboard, the Venue Pro is really worth considering, it's the closest competitor to the higher end Blackberry devices yet!

| | |
| --- | --- |
| | |
Submit Your Own Review!