Home
»
BlackBerry
»
BlackBerry Torch 9860
»
Reviews
BlackBerry Torch 9860 Review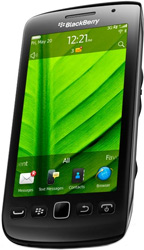 The BlackBerry Torch 9860 has a 3.7-inch touchscreen smartphone, part of an attempt by RIM to crack the lucrative smartphone market rather than the traditional Blackberry qwerty device. Powered by BlackBerry OS 7, the same operating system as the excellent BlackBerry Bold 9900y, but the Torch 9860 offers a large screen experience. Touchscreen mobiles are of course the most competitive smartphone category of the mobile market, with the big players introducing increasingly powerful devices and sophisticated user experiences, so the BlackBerry Torch 9860 faces a major challenge - this is a tough market to penetrate.

In terms of styling, BlackBerry devices have been really consistent over the past few generations. it just takes one quick glance to identify the Torch 9860 as a BlackBerry. On the bottom of the display you have the familiar selection of physical controls that stand proud of the body of the phone and the delicate contouring of the body of the phone around the headphone jack and the Micro-USB port look great and add a touch of class. At 120 x 62 x 11.5mm it's a good size too, not so big as to be unwieldy, but big enough for that large display and decent buttons. The large touchscreen offers you resolution of 800 x 400 pixels, so is comparable with most Android and Windows Phone 7 devices. Compared to other popular mobile devices such as the HTC Desire S, the screen real estate is effectively the same. The screen is bright and vibrant even in direct sunlight, although at night it is so bright some find it can be a little dazzling!

The hardware specification elsewhere seems to lag behind the latest smartphone devices on paper, in practice however, the Torch 9860 performs well with that 1.2GHz processor, 768MB RAM and 4GB of internal memory (which can be boosted by microSD card). Obviously Hardware specs alone are not the measure of a mobile device. The software makes a huge difference as if the software is not optimised then the user experience will definitely suffer. Refining software is strength for RIM as they have been doing that for years, which has resulted in the evolution of their operating system right up to the latest version BlackBerry OS 7. Even though this latest version does not look significantly different from Blackberry 6 visually, there has been significant changes and refinement over the last generation.

The BlackBerry Torch 9860 is fantastic for messaging, whether it be SMS, email, Blackberry messenger, Facebook or Twitter, the Torch 9860 is every bit as effective in terms of social communication as any other mobile device. Add in strong camera, great video, large colourful and bright screen, and fast browser, all jammed into an attractive phone.

| | |
| --- | --- |
| | |
Submit Your Own Review!