Home
»
BlackBerry
»
BlackBerry Torch 9810
»
Reviews
BlackBerry Torch 9810 Review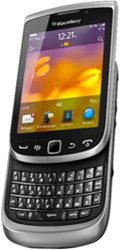 The BlackBerry Torch 9810 builds on the success of last year's 9800 and offers a number of improvements such as an improved screen, speedier processor and the very latest version of the BlackBerry operating system, BlackBerry OS 7. The 9810 should appeal to die hard BlackBerry fans, boasting a physical keyboard as well as a touchscreen interface. it's not really about innovation however, more an update of last year's Torch 9800. BlackBerry OS 7 is the latest and greatest edition of RIM's mobile operating system, a major upgrade from the OS 6 which powered the likes of the Torch 9800 and very user friendly.

The Torch 9810 has a 3.2 inch 480x640 resolution screen, it's a TFT display which offers a clean and crisp picture with the ability to perform the same type of gestures that iphone users love so much, such as "pinch to zoom". The centrepiece of any BlackBerry handset has to be the keyboard of course, in the case of the Torch 9810, the physical interface is a slide-out Qwerty keyboard that allows you to type like greased lightning. The optical touchpad is still present (which Blackberry fans will appreciate) and is great for precise control. Web pages render quickly on the Torch 9810 and look superb on the 3.2-inch screen. Call quality, signal strength and battery life are all excellent on the Torch 9810, but the original 9800 was just as good in this regard.

The more powerful processor makes a huge difference, the original Torch 9800 suffered with an underpowered 624MHz processor, but RIM has boosted the Torch 9810's chip to 1.2GHz, although it's still a single-core affair. The phone feels pretty nippy, with smooth navigation and responsive screen that runs HD 720p video playback without a hitch. There has also been a large increase in storage, now doubled to 8GB, which can also be augmented with a microSD card, interestingly the microSD is hot-swappable which means there is no need to power down the phone to change it. Unfortunately, there's no card included in the retail box. The 5-megapixel camera on the Torch 9810 is the same as the one on the 9800, but now it records 720p video. Connectivity is great with many options, Wi-Fi and HSPA for data transfer, 3G and quadband GSM for calls/voice, and Bluetooth or USB for anything else.

The Blackberry Torch 9810 is a great example of a hybrid touchscreen/QWERTY keyboard phone, bringing the core strengths of BlackBerry, such as messaging, email and business communication, into the twitter age with the new touchscreen running on BlackBerry 7 operating system - with that new fast processor and extended memory, there is very little to complain about.


| | |
| --- | --- |
| | |
Submit Your Own Review!