Home
»
BlackBerry
»
BlackBerry Torch 9800
»
Reviews
BlackBerry Torch 9800 Review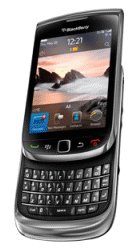 The 9800 Torch, which has been criticised by some as a bulky device, is never the less the best so far from Blackberry. That 3.2 inch screen manages to look larger than its competitors due to it's square and flat design, and even though the 360 x 480 pixels resolution is not the highest, the display looks great. With 16 million colours, it's vibrant and bright in all light conditions and is hugely responsive reacting to the lightest touch. The Torch 9800 is a massive improvement over the old Storm 2 model in every way. For instance this improved screen is crucial to the typing interface too, the excellent responsivenss of the touchscreen means the virtual keyboard interface is a joy to use. Of course the inclusion of a hardware Qwerty keyboard will keep traditional BlackBerry users happy.

The text prediction tool on the Blackberry doesn't work in the same way the iPhone does. It simply offers a list of words to choose from, rather than automatically changing words. But perhaps the biggest change is the new operating system - BlackBerry OS 6.0. This latest Blackberry operating system runs seamlessly with no lag whatsoever between applications or when scrolling. In fact, the homescreen set-up an doptions feel distinctly Android like, but thats not a bad thing, it simply means everything is easy to view and control.

Another new and improved feature is the browser, prior examples of BlackBerry browsers have always been slightly below the standards of the best pre-installed browsers, this latest version is a vast improvement, however it's a shame there is still no Flash support. Social Feeds are also well integrated on BlackBerry OS 6 with Social Feeds from Facebook, Twitter, AIM, BlackBerry Messenger, Google Talk, MySpace, Windows Messenger or Yahoo Messenger all together in a single application.

In terms of hardware, the BlackBerry Torch 9800 has a decent but not fantastic 5-megapixel camera, strangely not as good as the excellent camera on the BlackBerry Bold 9700. The music player is great however with good integration iTunes making it easy to set up podcasts and transfer music. Those with a favourite set of headphones will also appreciate the standard 3.5mm jack.

Despite the host of advanced features, battery life on the BlackBerry Torch is awesome with standby of 336 hours and even with heavy use several days from one battery charge is feasible. The BlackBerry Torch 9800 may well be a chunky device measuring 111mm x62mm x14.6mm, but it offers everything you want from a mobile phone, the only real downside is the camera which although usable is below par.

| | |
| --- | --- |
| | |
Submit Your Own Review!