Home
»
BlackBerry
»
BlackBerry PlayBook
»
Reviews
BlackBerry PlayBook Review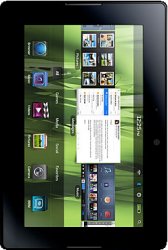 The PlayBook is BlackBerry's first tablet. In size terms the PlayBook is comparable to the Samsung Galaxy Tab and the HTC Flyer with it's 7 inch screen. It certainly feels  like a quality product, rock solid and built to last. It's nice and slim too at just 10mm. The PlayBook is a serious player in the tablet world, of course it has to be with  stiff competition from Apple and Android tablet devices. Running a brand new multi-touch operating system, BlackBerry Tablet OS, the PlayBook initially feels unfamiliar and can take a bit of getting used to. But after a little while, it's completely intuitive, perhaps even more fluid than the Android equivalent.

The 7 inch screen has a resolution of 1024 x 600 pixels, which is not exactly cutting edge in the tablet market, but in reality the screen size and resolution are perfectly good with rich colour and detail. The capacitive screen is responsive and supports a number of multi-touch inputs and gestures, particularly useful when browsing the web and there's full support for Flash 10.1 and HTML5. That 7 inch screen is big enough to display most web pages full size, and if required you can easily resize the page with the 4-finger multi-touch control. In general, internet  browsing is a joy on the PlayBook. This is probably due, at least in part, to the fact that the PlayBook is powered by a dual-core 1GHz processor with a dedicated graphics processor and 1GB slab of RAM, this is as fast as any tablet device on the market right now.

In terms of apps, the reality is there are probably never going to be as many apps available for the PlayBook as there are for the iPad. But all the core apps you may need are pre-installed. Interestingly, some kind of Android compatibility is proposed for future, but for now apps are limited but there are already a surprising number of games available.

The PlayBook has two cameras, a 5 megapixel rear-facing, and a 3 megapixel front-facing camera, both with autofocus feature. For some reason both cameras are capable of recording full HD video with 1080p resolution. The front-facing camera can be sued for video calling, but only over Wi-Fi with other PlayBook owners. Audio quality is great and the PlayBook features stereo speakers and microphones and if you prefer you can plug in your favourite headphones using a standard 3.5mm jack. On the PlayBook GPS is supported Bing Maps rather than Google Maps.

There's no 3G support in the PlayBook, so you need either a Wi-Fi network for connectivity, or you can wirelessly connect the PlayBook to your BlackBerry smartphone to access email, Messenger, contacts and other features on your phone and view them on the large PlayBook display. This is perhaps the only drawback with the PlayBook, you really need to be a Blackberry user with a smartphone to access all the features and capabilities of this great Tablet device, that aside, it's hard to fault, so if you own a Blackberry phone and are looking for a Tablet device the Playbook is certainly worth considering even with the stiff opposition.

| | |
| --- | --- |
| | |
Submit Your Own Review!