Home
»
BlackBerry
»
BlackBerry Curve 9360 white
»
Reviews
BlackBerry Curve 9360 white Review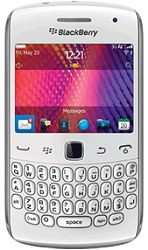 It's been over a year now since the release of the BlackBerry Curve 3G 9300, a year is a long time in the mobile phone world, especially with companies like HTC and Samsung pushing hard to gain more market share, so this latest Curve handset has a lot to live up to. First impressions are good, this new phone shares the good looks of the rest of the curve range, but is 3mm thinner, making the handset even sleeker and astonishingly light to hold. Despite the lightness it's as solid and well-built handset that features the impressive Blackberry keyboard.

The 2.44 inch screen is the same size as the old Curve, but the resolution has more than doubled. But it's still a small screen which limits the Curve in terms of being a media device, this is definitely a business phone, but most Blackberry users will appreciate that. This latest Blackberry operating system is a huge improvement (Blackberry OS 7), but still instantly familiar to any old Curve users. The refinements of the new operating system include much better integration of social networking sites such as facebook and twitter, boosting the usefulness of the Curve as an all-round communications and messaging tool.

The upgraded 800MHz processor with 512MB of RAM works well with virtually no lag even when web browsing or using powerful apps like BlackBerry Maps. The Curve 9360 has an uprated 5 megapixel camera, but no autofocus and just VGA resolution video. The music player works pretty well though and there is a standard 3.5mm audio jack so you can plug in any stereo headset or even transfer your music wirelessly to another device via Bluetooth. The BlackBerry Maps app isn't quite as good as Google Maps however, and the web browser is pretty basic.

Connectivity is excellent with quadband GSM, 3G and Wi-Fi plus support for NFC (Near Field Communication). The battery is a bit underpowered though at just 1000mAh, probably part of the compromise required to make the 9360 so thin. As a mid-to-high end business phone, the Curve 9360 makes a lot of sense, sitting between the Curve 9320 and the BlackBerry Bold 9790 in terms of price, but this is not a Media device, more a slim and lightweight business phone with a very high quality feel. The inclusion of a full QWERTY keyboard and an optical trackpad is of real benefit. BlackBerry OS 7 is a big improvement integrating facebook and twitter into the hub of the phone, and there are a good list of features such as GPS, a camera, web browser and media player available, although it has to be said there is nothing here you wont find in a similar priced Android handset or an iPhone.


| | |
| --- | --- |
| | |
Submit Your Own Review!