Home
»
BlackBerry
»
BlackBerry Curve 9360 pink
»
Reviews
BlackBerry Curve 9360 pink Review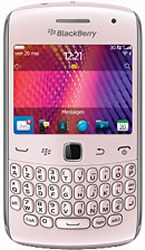 Blackberry Curve 9360 Pink handset is a classic style Blackberry device, with a full but compact QWERTY keyboard sitting underneath a 2.4-inch screen. This has to be one of the most affordable smartphones on the market with monthly deals for under a tenner and a whole host of useful features onboard. This is a top quality smartphone for very little money which even features the latest NFC technology. Obviously, its no challenger to its big brother the Bold 9900 - but the 9900 costs twice as much. The Curve 9360 looks and feels the same as much more expensive handsets, a great budget smart phone.

The screen on the 9360 is a 2.4-inch unit with a resolution of 480x360 pixels and is not touch sensitive, but that's no big deal due to the intuitive Blackberry optical trackpad beneath which means navigating menus and web pages is easy and can be customised to suit your own preferences. As you would expect from a Blackberry device, the QWERTY keyboard though compact, is a delight to use with all 35 keys under the thumbs thanks to BlackBerry's trademark ridges.

The latest interface has been tweaked with the addition of the BlackBerry 7 version operating system, this makes it easier to scroll across different screens and menus. BlackBerry 7 also includes Near Field Communication for mobile-based payment schemes when they become available, though in the UK at present they are virtually non-existent. You also get the latest BlackBerry Messenger 6 which offers free instant chats from within Blackberry apps and games. There are a range of apps available from BlackBerry App World but the lack of choice is immediately apparent when compared to the Google and Apple app markets, still all the essentials are present and correct.

The 800MHz processor powering the Curve 9360 with its 512MB of RAM may not seem the fastest on paper, but in practise it feels very slick thanks to the streamlined operating system and offers decent if not class leading performance. The 5-megapixel camera has an LED flash with image stabilisation and can deliver some decent pics in good light conditions but in less than ideal light conditions the quality falls rapidly and there's no autofocus (but this is a budget model so taking price into account the camera is pretty decent). The microSD card slot supports up to 32GB so at least there is plenty of room for snaps and video. Battery life is above average with an easy day and a half of moderate to heavy use before charging is required, with some common sense energy saving measures most users could extend this considerably. The Curve 9360 has plenty going for it and is an ideal choice for those taking their first steps into the Blackberry world, offering all the features on a tight budget.
| | |
| --- | --- |
| | |
Submit Your Own Review!