Home
»
BlackBerry
»
BlackBerry Curve 9360
»
Reviews
BlackBerry Curve 9360 Review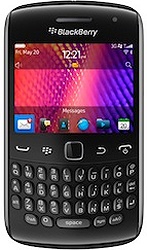 First impressions of the new Curve 9360 are excellent. The phone is the same basic size as the Curve 9300, but 3mm thinner, so the device is much sleeker to hold weighing just 99g. It's as solid and well-built as any BlackBerry to date, just sleeker. The traditional and fabulous keyboard has been retained, as has the 2.44 inch display, but the number of pixels has more than doubled. It's still a small screen for a media phone, but for a business phone, it's great.

The operating system has been upgraded to BlackBerry 7, which has several refinements such as better integration of social networking, an upgraded 800MHz processor and 512MB of RAM. The Curve 9360 has an uprated 5 megapixel camera, which is capable of recording video at VGA resolution. The included music player works well and the 3.5mm audio jack means you can use your favourite headphones or even listen to your music wirelessly via Bluetooth. Connectivity options are good with quadband GSM and 3G plus Wi-Fi for faster data access. There's also support for Near Field Communication (NFC) but you may have trouble using this service in the UK as the technology has still to be fully implemented.

The BlackBerry Curve sits between the Curve 3G and the BlackBerry Bold 9900 in terms of price and spec. The Curve 9360 is a great mid to high end business phone, but thanks to the small screen its no multimedia device. When you have great Qwerty keyboard on the front of a phone, it makes sense that the screen size is going to suffer, there's simply no way you can have both a huge display and a great qwerty keyboard with tactile buttons. Unless, of course, you want a handset that's so big that you'll never be able to fit it in your pocket! On the other hand, with a resolution of 480x360 pixels, the absolute screen size may be small, but you get pin-sharp image quality with good contrast and bold and colourful images. But of course its never going to rival the likes of the HTC Desire HD, Samsung Galaxy Nexus or Apple iPhone 4S in terms of the display. The battery life is a bit off a disappointment, but the same criticism could be levelled at many competitors. This is a gorgeously thin BlackBerry device, this is a seriously good-looking handset, with a very high quality feel, a full QWERTY keyboard and the excellent Blackberry optical trackpad.

| | |
| --- | --- |
| | |
Submit Your Own Review!