Home
»
BlackBerry
»
BlackBerry Curve 9320
»
Reviews
BlackBerry Curve 9320 Review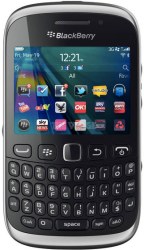 The BlackBerry Curve 9320 looks like the old Curve models with it's black and brushed metal look and the trademark curved back. Measuring 109 x 60 x 12.7mm and weighing just 103g, it's a compact handset but a bit thicker than the Curve 9360. The 9320 comes with the latest BlackBerry OS 7.1 and is powered with a 806MHz, which doesn't sound much these days but it performs well with very little lag even when doing some serious multitasking.

Like most Blackberry devices, messaging is where the Curve 9320 really shines. RIM built their reputation on fantastic email delivery, and this latest Curve does not disappoint, even with the relentless attack from competitors powered by Apple, Google and Windows, Blackberry is still capable defending its crown. However the Curve 9320 does not particularly shine in the web browsing department, it's not bad, it just feels slightly pedestrian when compared to the class leaders. it is however much better than the handsets powered by previous versions of the Blackberry operating system, however that's not saying much as those were awful! This latest version of the software seems very capable, so the sedate web browsing experience is probably down to that rather puny processor.

The BlackBerry Curve 9320's camera is a cheap and cheerful at 3.2 megapixel unit, again not he best on the market by any stretch, but it performs well and is capable rather than inspiring and at least has an LED flash. Video recording is also a rather basic experience, limited by thee pixel resolution. One major improvement over Blackberry handsets of old is battery life, the Curve 9320 has the longest lasting battery of any 3G Blackberry model. Not surprising really when you consider the unit is a stonking 1450mAh power pack, that's a higher rating then even the iPhone. The battery performance is truly exceptional for a smartphone - days of use rather than hours!

In terms of connectivity all the options are present and correct, with GPS, Bluetooth, HSDPA/HSUPA and Wi-Fi. The only thing really missing is NFC capability, but since NFC hasn't really taken off in the UK yet, it's not such a big deal. You can use the Curve 9320 as a Wi-Fi hotspot which is a nice touch and the FM radio is good too. The only downsides are the less than brilliant screen, basic camera and video recording. For many the fantastic messaging capabilities and extra long battery life will more than make up for any limitations. Even better the BlackBerry Curve 9320 is placed in the very lowest Blackberry price bracket, so minor shortcomings can easily be forgiven.
| | |
| --- | --- |
| | |
Submit Your Own Review!