Home
»
BlackBerry
»
BlackBerry Curve 3G 9300
»
Reviews
BlackBerry Curve 3G 9300 Review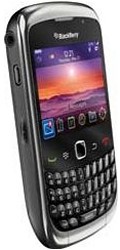 The BlackBerry Curve 9300 looks very much like previous BlackBerry handsets with the full QWERTY keyboard sitting below a 2.4-inch touchscreen. The Curve 9300 also offers the capabilities which have attracted users to Blackberry over the years, such as 3G and Wi-Fi offering fast internet browsing and connectivity. There is not much terribly new to see in fairness, however that's not particularly a bad thing if you take into account the popularity and success of the BlackBerry Curve 9300 predecessors.

The renowned physical Blackberry QWERTY keyboard sits under the 480x360 LCD screen and the famous optical track-pad, making the handset look very similar to earlier Curve series phones like the BlackBerry Curve 8900. As with other Blackberry devices, connectivity reigns supreme with Wi-Fi and GPS via the 3G network. However with this latest Curve model, RIM (owners of the Blackberry brand) are keen to showcase the new media features of the Curve 9300.

The BlackBerry Curve 9300 now features dedicated media buttons on the top of the handset which clearly show the media player intentions in much the same way as the iPhone or a Sony Ericsson Walkman handset. However in terms of hardware the included 2 megapixel camera is nothing special, with no flash and autofocus (unlike the BlackBerry Bold 9700). But the reason most buy Blackberry handsets is due to their messaging capabilities, in this regard the BlackBerry Curve 9300 will not disappoint.

In terms of messaging, the BlackBerry Curve 3G has all the bases covered. SMS, MMS and email are very easy to set up and messaging functions are integrated into the handset interface at every possible opportunity. Setting up a webmail account is as simple as entering your email address and password for providers such as Gmail, Yahoo Mail and Windows Live.

The physical QWERTY keyboard on the BlackBerry Curve 9300 is good, but it's no longer the best in the marketplace. Although it's still up their with the best, the raised buttons for instance are much better than those flat keyboards offered by handsets such as the Motorola Milestone or Samsung Genio Slide, but lacks the responsiveness of the BlackBerry Bold 9700 and is a little easier to make mistakes when typing fast. But the automatic text correction is really intuitive (better than the iPhone for example).

The BlackBerry Curve 9300 is an attractive handset, the optical trackpad is incredibly responsive and messaging is a breeze. This is a quick and clever BlackBerry handset for the budget-conscious consumer, it does not have every possible high tech function, but what it does have is easy to use and works well. Even though the QWERTY keyboard is not quite as good as the BlackBerry Bold 9700's, it's great to use and easy to get used to.


| | |
| --- | --- |
| | |
Submit Your Own Review!