Home
»
BlackBerry
»
BlackBerry Bold 9790 white
»
Reviews
BlackBerry Bold 9790 white Review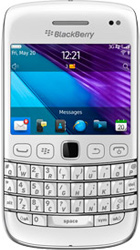 The BlackBerry Bold 9790 White features a great keyboard and solid build but faces stiff competition from Android rivals. Sitting just below the Bold 9900 in the price range, the Bold 9790 is the answer for BlackBerry fans jealous of the touchscreen iPhone and Android phones. The 9900 was the first Blackberry to offer a touchscreen in addition to the trademark BlackBerry keyboard, but it was flawed in many ways, neither a great touchscreen phone nor a great Blackberry device. Is the Bold 9790 a better compromise? Well, the Bold 9790 is slimmer than the 9900 and feels like a rock solid and sturdy piece of kit. The Blackberry keyboard is as good to use and responsive as ever, and the handset has just the right amount of rubber and plastic to look and feel great in the hand without looking cheap.

However, the five megapixel camera on the Bold 9790 is a bit of a disappointment, it's not the greatest camera out there, especially in poor light conditions, and even manages to feel awkward taking photos. other minor drawbacks are the minimal online memory (8Gb) and the fact that the Blackberry operating system version 7, whie a considerable improvement over it's predecessors, is no match for Android 4.0 or, Apple iOS 5.1. With Blackberry OS version 10 about to be launched it's important to note that the BlackBerry 9790 won't be able to upgrade to the latest version.

NFC and voice activated functions are included with this handset but these functions are also available on a wide range of competing handsets and are essentially a gimmick rather than a useful feature (at least until the adoption of NFC in the UK becomes a reality). The small 2.45 inch screen with 480 x 360 pixels resolution is not ideal for web browsing, but fine for email and Blackberry Messenger. But with a touchscreen this size features will always be slightly cramped and confusing - which is why many rivals are adopting 4 or even 5 inch screens. The performance from the 1 Ghz processor is sufficient to handle pretty much everything you can throw at it however. Music playback is good too, but the music player software seems cumbersome and tracks are expensive to download when compared to iTunes or similar.

All things considered, performance is geared towards simple needs for people who demand a keyboard and above average battery life and the BlackBerry Bold 9790 works well in this respect, though you pay a hefty premium for the brand name. A quick tour of the limited games available run without issue but, ultimately, the experience is one of a very low-end smartphone. Battery life is impressive with around 2 full days of mixed use possible from a single charge.

However, the main drawback for this phone is the price, it seems as if customers are expected to pay a large premium just for the Blackberry Brand, many much cheaper rivals offer a better all round package and beat the 9790 in all areas. If you must have a Blackberry, better to go for the BlackBerry 9900, the BlackBerry Bold 9790 is hard to recommend, missing anything unique or new and outperformed by rivals in every area.
| | |
| --- | --- |
| | |
Submit Your Own Review!