Home
»
BlackBerry
»
BlackBerry Bold 9790
»
Reviews
BlackBerry Bold 9790 Review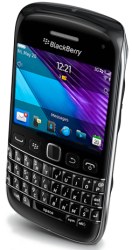 The BlackBerry Bold 9790 has that familiar corporate styling and the traditional full Qwerty keyboard, but the 9790 is unusual for a BlackBerry as it's a hybrid, with a small capacitive touchscreen above the keyboard. It's not the first hybrid BlackBerry, the previous Bold 9900 also had both, but the Bold 9790 is a smaller package. The Bold 9790 is powered by the much improved BlackBerry OS 7, RIM's latest operating system, but RIM have already announced they plan to launch BlackBerry 10 in the second half of 2012 and as yet here's no indication if BlackBerry 7 devices will be upgradeable to version 10, so some may prefer to wait for the big new Blackberry platform. Never the less the BlackBerry 7 operating system is a vast improvement and much more user friendly than previous versions of the BlackBerry OS. There is no doubt RIM has worked hard to try and make up some of the ground it has lost to Android and iOS in recent years.

One particularly welcome improvement is a much faster browser, according to RIM it's 40 per cent quicker than the previous BlackBerry 6 OS with improved graphical elements on the home screen. But at first glance, it looks much the same as the Blackberry handsets of old, despite the usability boosts. The 2.45 inch capacitive touchscreen seems small in comparison to some of the smartphone monsters available today. With a resolution of 480x360 pixels the screen has the same spec as the 2010 Bold 9780, as a consequence, you can sometimes struggle to view full web pages. But at least you can now use features such as pinch-to-zoom on web pages and can finger flick to scroll through email. Still, it's an improvement, but perhaps not as much as required when looking at the competition. Luckily RIM has also kept the Bold's optical trackpad, meaning there are many ways to navigate and you dont have to use the touchscreen at all times.

The Bold's signature Qwerty keyboard, rest assured, is fantastic, being essentially the same keyboard as used on the Bold 9900. On the Bold 9790 you also get angled keys which enable users to type quickly and correctly. But it's a compromise of course, as that excellent keyboard takes away available real estate and leaves you with a small screen. There is no way to have both a large touchscreen and a full qwerty keyboard, at least in a compact handset that fits into your pocket. The other Blackberry strengths are also still present such as the slick email and messaging, the Bold 9790 has all the usual messaging features with BlackBerry email hooking up with all your accounts such as Gmail, Yahoo mail and Hotmail. There's also the useful BlackBerry Messenger and texting, along with great Twitter and Facebook apps that plug into your social networks effortlessly and push notifications to your phone.

| | |
| --- | --- |
| | |
Submit Your Own Review!