Home
»
BlackBerry
»
BlackBerry Bold 9780
»
Reviews
BlackBerry Bold 9780 Review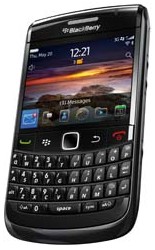 From a purely aesthetic standpoint, the Blackberry Bold 9780 is almost identical to its predecessors. Not that there's much wrong with that as the 9700 was a good looking handset. Luckily the 9780 also features one of the main Blackberry strengths, an excellent qwerty keyboard. Initially the sheer number of buttons crammed into such a small space seems intimidating, but it doesn't take very long for you to become used to the keys and it soon becomes easy to see why BlackBerry devices are so heavily favoured by mobile email users and heavy texters.

One slightly disappointing similarity though is the processor which still remains at 624MHz as with most low-level Android devices these days. Luckily the on-board memory has been doubled to 512MB in this latest handset which has a dramatic effect on performance. Even with this rather low tech processor the phone is smooth and trouble in use at all times and makes you wonder why other handsets with such powerful processors dont seem to offer much in the way of advantages.

The 9780 does without touchscreen navigation entirely, navigation is handles by a capacitive touchpad like the 9700. The combination of this touchpad interface and the latest BlackBerry 6 operating system can sometimes be a counter-intuitive process as Blackberry 6 was designed with touchscreen phones in mind. But most elements of BlackBerry 6 are just as impressive as they are on the Torch for example. Email still remains a strong point with the Bold 9780, despite massive strides made by competitors like the iPhone and Android phones, they simply can't compete with the RIM devices. If you're a business type with many different email and social accounts then there really is no substitute at the moment.

The internal improvements made by RIM (Research In Motion) to the BlackBerry Bold 9780 make this a pretty good proposition, and the upgrade to BlackBerry 6 makes a big difference. The typical qualities of responsive Qwerty keyboard and robust email capability will no doubt continue to attract some users from its smart phone rivals, but the latest devices like the iPhone 4, HTC Desire HD and Samsung Omnia 7 are exceptional. Good though the Blackberry Bold 9780 is, it's unlikely to recapture market share lost to iOS and Android handsets and has a battle on it's hands with no touchscreen to offer. The fantastic Qwerty keyboard and typical Blackberry email capabilities may well be enough for Blackberry fans however. But others will find it difficult to cope without touchscreen navigation.

| | |
| --- | --- |
| | |
Submit Your Own Review!