Home
»
BlackBerry
»
BlackBerry Bold 9000
»
Reviews
BlackBerry Bold 9000 Review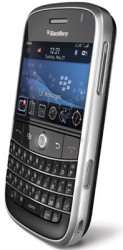 The BlackBerry Bold 9000 is a businesslike device with a professional looking black and white fascia with silver trim. There is also a faux-leather finish on the backplate which helps you maintain a good grip and the backplates are available in a choice of colours. Measuring 114mm x 66mm x 15mm , the 9000 is a relatively large smartphone and heavy too at 136g. However, this large size has allowed RIM to include an excellent mini-QWERTY keyboard and a high-quality touchscreen. The small qwerty keyboard lives up to the Blackberry reputation with its angled keys arranged in a shallow u-shape and the round trackball takes care of navigation and item selection with ease.

The mini-QWERTY keyboard arranges the relatively large keys in a shallow u-shape. We're not convinced that this offers any usability advantage, but it does carry forward a design feature we first saw in last year's BlackBerry Curve. The screen measures 2.6 inches which means this is one of the largest displays on a QWERTY handset. At this size the resolution of 480 by 320 pixels is perfectly adequate to display plenty of information clearly.

The BlackBerry Bold 9000 features all the current connectivity options including 3G, Wi-Fi and GPS. This is a quad-band GSM device with GPRS/ EDGE and HSDPA (the first Blackberry device to feature 3G). On board it has 1GB of memory with 128MB of flash and you can have more in the form of a microSD card. Email support is an area if which Blackberry has always excelled, the Bold 9000 features BlackBerry Enterprise Server for IBM/Lotus Domino, Novell GroupWise and Microsoft Exchange, plus the BlackBerry Professional Software. The BlackBerry Internet Service can support up to 10 email accounts.

There is no front-facing camera on BlackBerry Bold 9000 for video calling, but you get a decent 2-megapixel camera on the back. A 2-megapixel sensor sounds a bit entry-level these days but it's actually a perfectly acceptable camera and even shoots video too. The 9000 ships with a number of applications including Documents To Go (for editing Word, Excel and PowerPoint documents), Blackberry Maps, a Facebook client and a number games such as a Soduku game and card games. Battery life is slightly above average for a smartphone with a full days mixed usage or email, browsing and games possible from a single charge.

To sum up, the Bold 9000 keyboard is very ergonomic, the large high-resolution screen works well, and the Bold 9000 offers a strong email and web browsing platform that does a good job of mixing business and consumer features in one very good mobile phone.
| | |
| --- | --- |
| | |
Submit Your Own Review!