Home
»
Apple
»
Apple iPhone 4s 64GB black
»
Reviews
Apple iPhone 4s 64GB black Review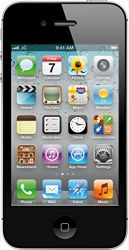 The iPhone 4 had already been out for around 17 months when the iPhone 4S arrived, despite reports of an all new iPhone 5, we got an improved iPhone 4! however, despite the initial disappointment, the new improved iPhone 4S is up there with the best smartphones on the market. Even though the list of major hardware differences is short. There is a new processor (the same dual-core A5 processor used in the iPad 2) which, according to Apple, offers seven times the graphics performance of the iPhone 4, also new for the iPhone 4S is an 8-megapixel camera with 1080p HD video recording, a redesigned antennae (due to the reception woes of the iPhone 4 launch) and the much anticipated Siri voice controlled assistant.

Despite these minor hardware changes, the iPhone 4S looks almost identical in appearance to the iPhone 4. The only real difference in appearance comes from that new antennae design, the iPhone 4S has two antennae. These extra antennae have caused a small change in button placement which in turn means those who have bought cases for their iPhones and upgraded have now found the cases will not fit the new iPhone 4S - annoying! Another disappointment at launch was the the 4S model had the same 3.5 inch screen as its predecessor, many expected a larger screen that filled more of the device, however, what the iPhone 4 lacks in size it certainly makes up for in quality, that 960x640 pixel Retina display is still one of the best screens to appear on any smartphone. The iPhone 4S of course runs the latest version of the Apple operating system, iOS 5. However this update has been applied to iPhone 4 and iPhone 3GS owners already so initially there is very little difference.

The iPhone 4S takes all the already good core features of its predecessor and improves them in almost every way. Internet browsing for instance is even faster and very slick with pages rendering quickly with the extra speed due to the faster processor particularly noticeable. For instance, webpages can take a couple of seconds longer to load on the iPhone 4, even though it's still no slouch compared to leading smartphone competitors. There is still no flash support in the browser, though there apps for dealing with flash content. You can at least now set up the iPhone without having to connect to a computer, though you still can't get any multimedia files onto it without using iTunes. The battery life isn't amazing on the 4S model, but is on par with most competitors and only perhaps slightly worse then the previous less powerful versions. This version comes with 64Gb of storage which will be more than enough for photos, files and videos for the average user.

Basically, if you liked the iPhone 4, the iPhone 4S is the same but better in almost every possible way!
| | |
| --- | --- |
| | |
Submit Your Own Review!