Home
»
Apple
»
Apple iPhone 4s 16GB black
»
Reviews
Apple iPhone 4s 16GB black Review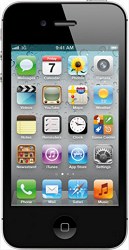 Although many industry pundits, analysts and bloggers were initially disappointed when they failed to get a completely new iPhone with a bigger screen, this latest iPhone 4S model may look the same, but under the skin it's significantly faster than the previous model, with a new improved camera and many other upgrades, most notably the high tech Siri voice assistant feature. Critically, the new iPhone 4S has a completely redesigned antenna to improve call quality after the problems reported with dropped calls on the iPhone 4 model.

The speed increase due to the new A5 processor is obvious, applications open a little quicker and there is a general responsiveness to the phone in use. Amazingly this extra power does not seem to have had much impact on battery life, the iPhone 4S is much the same as on the iPhone 4, in other words it will need charged up after a heavy days usage but will last a full day from a single charge. The camera is another major improvement, it feels three times faster than the old camera and the pictures are sharper, more colourful and much more detailed. In particular, HD video shot on the iPhone 4S looks amazing on the big screen.

The most talked about aspect of the Apple iPhone 4S is Siri, Apple's "voice personal assistant". We have all seen the clever marketing, simply speak to phone and it will answer your questions and carry out tasks based on spoken commands. The reality is Siri seems to hear very well, spoken commands/questions appear on the screen with a high degree of accuracy. There are limits, of course, particularly in the UK where the local search feature has still to be integrated. But Siri understands a surprising amount of natural speech and will probably improve over time too.

The iPhone 4S is a surprisingly good upgrade to an already very good phone. It retains everything that was good with the iPhone 4 but improves the handset in almost all areas. It's not a cheap phone but is a brilliant one, with the faster dual core A5 processor, amazing 8 megapixel camera and the revolutionary Siri voice technology. It's an expensive phone, but if you can afford it, it's well worth it.
| | |
| --- | --- |
| | |
Submit Your Own Review!