Home
»
Apple
»
Apple iPhone 4 8GB black
»
Reviews
Apple iPhone 4 8GB black Review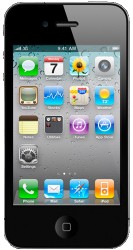 Now that the iPhone 4S is selling like hotcakes, Apple have finally released an 8GB version of the iPhone 4 as a more affordable option. The new iPhone 4 8GB has most of the features you'll find on the new iPhone 4S model, and all the features of the other iPhone 4 models except of course the memory downgrade! Despite this model being the version with the least amount of on-board storage, this handset is very usable and of course affordable, the smaller 8GB onboard memory is still large enough to store around 1,500 mp3 tracks and on the face of it there really isn't that much difference between this model and the iPhone 4S.

Like other iPhone 4 models, the 3.5 inch Retina display is super responsive, sharp and bright. Although powered by the older generation Apple A4 processor, the iPhone 4 still packs a punch and with 512MB of RAM is as slick and fast as most new smartphones available. The 5 Megapixel camera shoots 720p video and takes decent photos and the included iPhoto app offers endless editing opportunities. The iPhone 4 8GB has a front facing VGA camera for video calling and both cameras offer a touch-to-focus feature whwre you simply touch the screen to set the camera focus where you want it.

The iPhone 4 8GB runs on iOS 5.01 and you can easily upgrade for free to iOS 5.1, the latest version. You get the same array of useful and intuitive apps as the more expensive iPhone models including FaceTime, iMessage, iCloud, iTunes, Photostream and iPhoto. Unfortunately the iPhone 4 will not support Siri the new voice assistant launched on the iPhone 4S to much acclaim. Battery performance is on par with most smartphones and you can extend the battery life using "Airplane mode" to disable your network services.

If you're looking to join the iPhone club, the iPhone 4 8GB is a great choice. It's the most affordable iPhone on sale and only misses out on a couple of key features when compared to the newer and more expensive iPhone 4S model. The display is however starting to look a little cramped now at 3.5 inches when most competitors are offering much larger displays and the camera while good does lag behind the 8 megapixel unit found on the newer iPhone 4S. If you are considering an iPhone 8Gb, be sure to check out the alternatives such as the Samsung Galaxy S II, Nokia Lumia 800, HTC Sensation XE and of course the newer model the iPhone 4S.
| | |
| --- | --- |
| | |
Submit Your Own Review!