Home
»
Apple
»
Apple iPhone 4 32GB black
»
Reviews
Apple iPhone 4 32GB black Review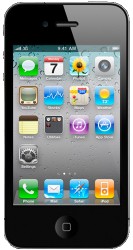 The iPhone 4 was a sharp departure from the look of previous versions, on the fourth generation iPhone both the front and back are glass with stainless steel borders, but still with that unmistakably Apple look. The iPhone 4 is available in both black and white, but here we are looking at the Black version. Covered in an oleophobic coating front and back, the glass looks beautiful but attracts smudges easily, though apparently it resists scratches and cracks better than plastic. In use the iPhone 4 does have a solid, sturdy feel and from the feedback received it seems to hold up well in heavy use.

Measuring 58.6mm x 115.2mm x 9.3mm, the iPhone 4 is roughly the same size as the iPhone 3GS, just slightly thinner, at launch it was the thinnest smartphone around and weighed 137g, but the difference is barely noticeable between the iPhone versions. New features in this fourth generation phone include a front-facing VGA camera with LED flash, a new noise-cancellation microphone, new split volume buttons and a new multitasking experience.

The stainless steel border around the iPhone 4 is more than just a decorative touch, this border forms a new antenna circling the phone. Probably the best feature of the iPhone 4 is the display. Featuring 940 by 640 pixel resolution, or 326 PPI (pixels per square inch). This Retina Display on the iPhone 4 has four times the resolution of the previous iPhone models and uses the same IPS screen found on the iPad. In short, the iPhone 4's display is beautiful, full of bold colours and vividly clear text even in direct sunlight. All the hardware from the previous models is still present such as ambient light sensor, accelerometer and proximity sensor. Email is a vast improvement over the previous models thanks to iOS 4 which has a new unified inbox containing messages from multiple accounts.

Even though it's now over a year old, Apple's iPhone 4 is still a contender and the upgrade to iOS 5 has made it even better, of course the iPhone 4S is superior, but it is also more expensive. If you can do without a few new functions like Siri, the "voice assistant" found on the 4S. The iPhone 4 has a lot to offer, brilliant design, sharp screen, IOS 5 upgrade available, competitive price and tons of apps and games to download.
| | |
| --- | --- |
| | |
Submit Your Own Review!