Home
»
Apple
»
Apple iPhone 3G 16GB
»
Reviews
Apple iPhone 3G 16GB Review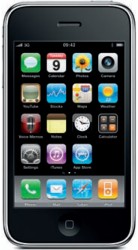 At a glance, this latest iPhone appears largely unchanged from the previous model. It many ways it is the same, it still uses the same solid-state memory (in this version 16GB) for instance. However it does get a brand new curved back panel available with a choice of white finishes. Although largely plastic, the iPhone 3G feels really solid and classy, in fact many customers preferred the new plastic finish to the old metal finish.

Another improvement is that the recessed headphone socket is gone, so now you can use any third party headphones, no longer restricted to using Apple headsets or having to buy an adaptor. Impressively, the inclusion of GPS has been made without any unsightly external aerial. Of course the headlining feature is the 3G with as there's support for O2's HSDPA network too. Not surprisingly, it's a clear improvement over its EDGE predecessor. There is no doubt this 3G enabled iPhone means downloads and web browsing are much faster. Wi-Fi reception is improved over the previous iPhone too with better reception of wireless signals.

The good news is these improvements have not come at the cost of battery life. This latest version is capable of five hours of calling, seven hours of video playback, and up to 24 hours of audio playback. In short, this latest incarnation of the iPhone is pretty much what everyone was hoping for. It seems as if all the concerns raised by owners of the previous model have been addressed - 3G, quality concerns, stereo Bluetooth, Assisted-GPS and an all new App Store. The only minor disappointment is that the iPhone 3G still lacks a user-replaceable battery.

This is an incredibly sexy mobile phone to look at (many would say the iPhone set the standard for modern handsets and has been much copied). However it is prone to collecting fingerprints easily (luckily Apple include a cleaning cloth in the retail pack!). The iPhone 2.0 software is an excellent improvement over the previous OS too. The multi-touch interface allows swiping, pinching, expanding, and tapping around and works quickly and accurately. That intelligent virtual keyboard is still present when you need it, and the keyboard adjusts depending on the way you type on it and features predictive text - both of which allow for rapid typing once you get familiar with it.

Finally, we should not forget that the iPhone is a phone! The original iPhone model was criticised for having poor call quality, thankfully the latest iPhone 3G call quality is very good indeed with good clarity for both incoming and outgoing calls. This is possibly the most sought after handset in existence, there are even reports of stock shortages around the world. The only real downside is the lack of video recording. If you can live without that, this handset should feature on your shortlist.

| | |
| --- | --- |
| | |
Submit Your Own Review!